Wolf Eyes Sniper Pro is normally $169, now $139 till midnight June 30th or until stocks last.
Lumens: 1,210 Continuous Lumens
Weight with battery: 218 grams
Throw: 100 metres
Length: 154 mm
Beam Type: Reflector – Spot surrounded by flood
The Sniper II Pro is a compact high intensity tactical LED torch with 6 levels including two strobes and a huge 1,210 lumen output. Only a few short years ago this output was unimaginable in a compact handheld torch, now all this is in your hand. This is the torch chosen by SAPOL (South Australia Police) for their whole Police force, as well as being chosen by many specialist Police and Defence units throughout Australia. We would probably consider the Sniper II Pro one of the best General Duties flashlights available. It also makes a great general use torch!
Light Output and Beam Pattern
Interesting subject, light output and advertising! We have considered building some of our torches with very high initial outputs, which then quickly drop within a minute or so down to a third or so of the initial output. This would be great for advertising but as most of our users are professional users, often using their torches in situations where safety is paramount, we don't. A brighter light dimming can both actually reduce how far you can see (though not by that much, lumens themselves are not as big a driver as design for distance) but also ability to see as your pupils adapt to the greater glare and then take to 10 to 15 minutes to adapt to lower glare. Also utilising the LEDs like this results in a shortened lifespan. So that is why our lumens are continous, not a shooting star!
The 1,210 lumen LED in the Sniper II Pro LED rechargeable torch provides a good beam out to 100 metres. The reflector head provides a beam of spot surrounded by flood and a solid pool of light in the midrange. There are 6 levels of light output – high, medium, medium/low, low, slow emergency strobe and fast disorientating strobe. The Sniper II Pro utilises a 35mm head to give a 100 metre throw. We believe the Sniper II Pro and Pro Police are our equal best Police torch, the difference being the head size to give the required throw.
The Sniper II Pro provides 1.5 hours of light on high with the standard battery and 45 hours hours on low.
Procap
The Procap is a conventional tailswitch in the centre but has a ring around the outside to change levels. This can be used to change the level of the torch when it is on or before it is turned on. Particularly useful for say picking low before turning on to not cause too much reflection when reading or say selecting strobe before approaching offenders. It offers two strobe levels, a fast disorientating strobe and a slower emergency strobe. While unlikely that anyone will use the Sniper II Pro as a barrel mounted torch with the Magnetic Mount (Police applications would usually use a picatinny rail mount) it is worth noting the magnets in the Procap are not compatable with the magnetic mount, we suggest installing the standard tailcap if using that mount.
TTT and Construction
The Sniper II Pro features the Wolf Eyes Thermal Transfer Tube (TTT) which is a brass liner designed to drag damaging heat away from the LED and radiate it from the body, basically using the whole bodies thermal mass as a heatsink to radiate the heat away. The body is constructed of 6061-T6 aircraft aluminium, the two metals bonded together creating a structure stronger than either metal individually. Thirdly this brass liner also provides better electrical conductivity. The body is a standard 25.4 mm (1") allowing fitment to numerous mounts and also a good size to carry. The body is finished in a low temperature Hard Anodizing in tactical black.
The reflector is made of high temperature coated alloy, with layers of alloy films for a long lasting reflective finish.
Regulation
Being Regulated means your Wolf Eyes Sniper II Pro LED torch doesn't dim as the battery flattens. The regulation unit always maintains the optimum amount of power to the LED, meaning that as the voltage decreases as the battery flattens we increase the amperage to still provide the same current to the LED. This also works in reverse, contrary to what is advertised you do not want to use multiple batteries to overpower your LED, while it will shine brightly for a short time it will eventually overheat and suffer reduced output for the rest of it's remaining life.
Rechargeable Batteries
The Sniper II Pro LED torch uses our LRB168P (18650) battery which is a protected lithium ion battery. Being Lithium Ion means the battery has large reserves of power, meaning only one is required which keeps the torch profile within 25.4mm, important for a professional use flashlight and compatibility will all mounts. Being protected is very important, lithium ion batteries can discharge very quickly and also suffer thermal runaway (we have all see those videos of laptops on fire or exploding), this chip controls charging and discharging. This battery has been recently updated to allow double the amount of recharges.
Cold Weather
Due to the Lithium Ion batteries the Sniper II Pro LED flashlight works well in sub zero conditions, unlike most batteries which lose substantial reserves of energy if used in lower temperatures. The picture below is of a Wolf Eyes Sniper 11 LED flashlight on low, which was then put in the freezer and frozen. After 4 days it was still shining – inside the ice cube!
Australian Approved Charger
Your Wolf Eyes LED torch is supplied with an Australian Approved Charger, meaning firstly it is safe for your or your staff and secondly all your insurances apply (Building, Workers Comp, Home).
Upgradeable
The Sniper II Pro flashlight has a removable LED which can be upgraded when suitable newer LEDs come out.
Waterproof
As can be seen a number of Wolf Eyes torches are waterproof including the Sniper II Pro, but we would recommend something from our diving line for diving use.
Personalisation
The Wolf Eyes Sniper II Pro LED torch can be personalised to suit your unit, division, command, team or organisation with engraving on the side. A great way to reduce loss and build pride.
Support
The Wolf Eyes Sniper II Pro torch is supported in Australia with a full range of spares and a 1300 911 007 phone number to answer your questions. Due to the large number of Police and Military units using Wolf Eyes torches and lights in Australia, including the whole of the South Australian Police using this exact Sniper II Pro torch and many, many other specialist units, we are both morally and contractually obligated to have adequate spares on hand, which we do and also service facilities. As well as this, after hours the 1300 911 007 number is answered by live operators to take your message so it can be attended to in working hours. For your safety we want to keep your torch always working.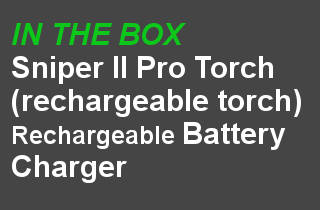 Short video of the beam of the Sniper II Pro
Different Levels of the Procap
This short video shows the different levels of the Procap and the ability to preselect a level before turning on - the video goes through high, medium, medium low, low, slow emergency strobe and the fast disorientating strobe. The torch is then turned off and low preselected. Then off again and the disorientating strobe is selected.
(217-wolf-eyes-sniper-pro)
| | |
| --- | --- |
| SKU | 217-wolf-eyes-sniper-pro |
| Brand | Wolf Eyes LED Torches |
| Shipping Weight | 1.0000kg |
Review Sniper II Pro and Tactical Polymer Holster

By:

James Hughes

on 25 May 2021

25 years in the protection game - military crash rescue fire, close protection, federal detention cert, state security. I've carried all kinds of tactical flashlights and my Wolf Eyes purchase is simply the best tactical lighting system I have ever used. Says what it does, does what it says and works straight out of the box. A simple to use high quality multi-functional tool that feels solid in your hand. 5 Stars.




(5)
Amazing

By:

Bryn Hughes

on 27 April 2019

Great products as described at a very reasonable price. Will definitely be returning as a Customer. Thank you Wolf Eyes.




(5)
Awesome never disappoints

By:

Brett marks

on 5 January 2019

Had my last sniper two for five years problem free and the new one is just as good.




(5)
Can't beat a quality product

By:

James

on 12 December 2018

Over the years I've used a lot of cheap torches. Last one was an Energizer for around $20 that had a lot of flickering issues, and I got fed up when it actually broke in half. Finally decided to order a real high-quality torch and ordered a Sniper II Pro. It's a nice bit of kit. Here's the thing: Yes these torches are expensive, but they're so good from a value standpoint that there's no going back. It's refreshing to have a torch that performs without a sweat and even at medium-low is more powerful than what a normal user would realistically need. The Sniper II Pro weighs a decent amount considering it's size and there's no questioning the quality of materials. You do need to remove the battery in order to charge it, but given the good battery life it's not something you need to do regularly anyway. Zero complaints.




(5)
Sniper II Pro does the job

By:

Josh O

on 13 June 2018

I have used the Sniper II for a number of years due to my Employer purchasing them for use of their employees. The brightness and functions are easy to use. The torch is small and compact and does the job better than the old Maglite Torches. I ended up purchasing one for work and personal use to make sure the battery stays charged for when I need it and not rely on others charging it. Plus I wanted to use it at home....




(5)
Sniper 11 pro

By:

Thomas

on 18 September 2017

One of the best torches I have ever bought. This is my fourth torch from wolf eyes. They are fantastic around farm




(5)
Sniper 11 Pro Led Torch.

By:

Richard Whitefield

on 23 June 2017

I have recently bought a Sniper 11 Pro Led Torch. This torch is performs every function that it was advertised as. I am extremely satisfied with my purchase.




(5)
Best torch ever

By:

Sally

on 21 April 2017

This is a small very powerful torch. I live on a rural property and it's great for wildlife spotting as well as being a fantastic security aid. Seriously worth the money.




(5)
Top quality

By:

Nathan

on 11 December 2016

Bought this torch to upgrade from current torch for work, was very pleased with ease of use as well as variety of functions available. Very bright torch, prefect for work. Top quality service and extremely fast postage also.




(5)
A cut above the rest

By:

Eden Fernandez

on 18 September 2016

Since receiving the Sniper Pro 2 I've pretty much forgotten about my Surefire and LED Lenser torches. My current responsibilities see me responsible for security in a museum and its vast grounds. No more rushing to investigate what the dogs are barking at. The strobe mode on this truly alarms people and animals alike and is worth the cost of the torch alone for its effectiveness. From the moment I pulled the torch from its box and held it I just knew I was beholding unsurpassed quality. The packaging and accessories are excellent and I feel every cent was well spent. A solid and reliable piece of gear that I will never regret buying. Just one bit of advice for anyone who like me rushes in to use it forgetting my military background of equipment check, check and check again. For the first few days the torch would come on by itself very dimly and I was as swearing and cursing thinking I'd got a faulty one. But after a thorough check over I realised I hadn't fully screwed the end cap tight so the contact wasn't correct. My fault I'm glad to say and I love this bloody thing so much I'm tempted to buy another of the same just for the sake of it. A great bombproof torch with great customer service and extremely fast shipping ( only three days to NT where we usually have to wait a week at best for delivery from elsewhere in Australia). I guarantee once you get a Wolf eyes torch in your hand the other brands will be completely forgotten. Extremely satisfied customer.




(5)
Solid, smart and powerful

By:

John Kitto

on 30 August 2016

The beam pattern is excellent. If you are at close quarters looking for something it is intense and lights up any crevice, yet in open space, although the bright centre penetrates distance the overall effect is still one of a floodlight, lighting the space in front of you. The procap is great, it turns on where you left it last time or you can pre-dial your setting before turning it on.




(5)
Sniper II Pro LED Torch

By:

Brad Woods

on 20 July 2016

When faced with the choice of numerous brands of LED torches and their purpose it appeared overwhelming. However I came across the Wolf Eyes website and ordered the Sniper II Pro LED Torch. It arrived quickly by post, I was impressed by its first class quality and the lights projection and it's various settings. I would highly recommend this product and that its worth the money you spend on it.




(5)
Take it everywhere

By:

Stephen Payne

on 11 February 2016

I work Security at a large shopping centre with variable shifts and I find myself using this torch many times throughout the day. The pro cap feature is so convenient for getting the setting I want when I want. It is really well built and sturdy having been dropped a few times and being submerged. The strobe is very handy for getting the upper hand on more than a few of my encounters with drunks turning their aggression to me. Goes very well with the traffic wand attachment. All my friends want one




(5)
Excellent

By:

Werner.B

on 21 January 2016

I was shown this torch by a friend in SAPOL I was amazed by its capability and so I had to get one. Working in Protective Services I had to have the best, for everyone working in Security I Highly recommend this product. I have had many torches over my 25 year career but this one is number one.




(5)
Perfection !

By:

Paul Galna Qld Australia

on 12 January 2016

I was shown this torch by a mate who's just come back from tours of Afghanistan and he swore by it's reliability and performance capabilities ,what could be a harder set of challenges to face than those ,I had to have one as soon as he showed it to me and let me tell you this is definitely THE BEST TORCH I have ever purchased .Value for money ,Unbelievable performance /durability (I'm a rough bastard ) perfect size and great technology.




(5)
Excellent, well built torch

By:

Cameron

on 30 December 2015

Delivers everything that is promised, the ProCap is a great addition to what is a great torch, no more cycling through different power modes!!




(5)
Excellent Police Torch

2 November 2015

I am a QPS patrol officer, this is a great torch for police work. Very durable, good size, excellent brightness and recharges quickly with a long battery life.




(5)
Excellent Addition to your Kit

By:

Alan T

on 26 October 2015

As a Police Officer find The Sniper II Pro - Well Made, Delivers Light needed as well as being the right size to be worn and handled comfortably. . Finally have a Torch I can be relied on.




(5)
Fantastic Torch

By:

Tony

on 12 October 2015

This is a fantastic torch. Creates day from night. Battery life is great, lasts a long time between charges. Compact and easy to handle. Durable and strong case, no need to worry about knocking it about




(5)
Excellent product

16 September 2015

I am a police officer and am very happy with this purchase. Durable, just the right size, and massively bright. Solidly made, recharges quickly and a charge lasts for ages. My colleagues mostly use led lensor and they are all disappointed they didn't go Wolf Eyes.




(5)
---
Others Also Bought
---
More From This Category