Wolf Eyes T3 is normally $199, now $139 till midnight June 30th or until stocks last.
Lumens: 1,400 lumens
Throw: 125 metres
Length: 157 mm
Beam Type: Reflector – Spot surrounded by flood


The Wolf Eyes T3II Pro with its 3 LED head looks like something from the future and as if it would scare small children – which in fact does, some users deployed overseas claimed it created some interest and concern about it's real nature amongst locals . The 3 LED s make the large 1,400 lumen output possible while the Procap gives you all the benefits of 6 levels of output.
Light Output and Beam Pattern
The 3 LEDs surprise the first time you turn them on, the output is just like a single LED with a bright centre spot and even flood surrounding. The 3 LEDs are so well aimed they combine to make an even beam. The smaller reflectors mean the T3II Pro is not a thrower of a light but one with a very strong midrange pool of light. Being reflectors it is a spot surrounded by flood beam but with a strong spot. There are 6 levels of output, high, med, med/low, low and fast strobe and slow strobe.
Procap
Like many of the Wolf Eyes LED torches the T3 II features the Procap, which allows you to select the level of light before turning on, or while the light is on. This works by a magnetic selector ring which is around the rear tailcap. Quite innovatively this does not turn the light off between levels when moving between them, so you aren't left in the dark, even momentarily.
TTT and Construction
Constructed of aircraft aluminium which is wrapped around the TTT (Thermal Transfer Tube) the body is more than strong enough for the forces applied, meaning you should be using your torch for years to come. The TTT is designed to drag the damaging heat away from the LEDs and radiate it out through the body, important when you have 3 high output LEDs in close proximity to each other.
Regulation
Most torches dim slightly as the batteries dim, but not this Wolf Eyes torch. When the battery voltage drops the regulation unit increases the amperage so the LEDs are getting the correct amount of power, this way your torch doesn't dim.
Rechargeable Batteries
Our evergreen LRB168A (18650) lithium ion battery is used in this torch as many other Wolf Eyes flashlights. This battery provides high power and also is protected, meaning there is a safety chip in the end controlling charging and discharging, all for your safety. You have probably seen those Youtube clips of notebooks catching fire or exploding, this ensures that won't happen to you.
Cold Weather
Will work when frozen solid – see the pic inside the ice cube – do you work under the same conditions?
Australian Approved Charger
An Australian Approved Charger is supplied with your T3II Pro to ensure your safety and that all your insurances apply.
Waterproof
The T3 II Pro will work under light submersion.
Support
Your T3 II Pro LED rechargeable torch is fully supported in Australia. We have afull range of spares, required by our Police and Military contracts, we also have a 1300 911 007 number available to troubleshoot. This number even has 24 hour live answering for after hours concerns, which are then handled next business day.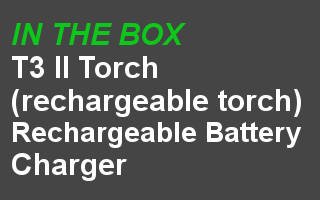 (238-wolfeyes-t3-led-torch)
| | |
| --- | --- |
| SKU | 238-wolfeyes-t3-led-torch |
| Brand | Wolf Eyes LED Torches |
| Shipping Weight | 1.0000kg |
Outstanding

By:

Dean

on 27 April 2019

Very impressed




(5)
... just what I needed

By:

Urs Neidhart

on 23 April 2019

I am not a hunter, don't do search 'n rescue, not a late night runner, just wanted a great lot of light around me with a good spot in the middle, this one does it and does it well. Living in the bush and the nights are dark and the T3 lights up the surround, fantastic when I take the dog for a late night walk or just going down the garden checking ... great torch ... not a small torch, won't fit into front or back pocket comfortably, ... but I like that too.




(5)
Gift for Husband

By:

Hazel Duncan

on 25 April 2017

I purchased this torch for my husband to take with him on a hunting trip. He is very very happy with the Wolfeyes torch, he is extremely impressed with the area that it lights up and the compactness of it, this is a great torch for him. This is a good size for the home as well.




(4)
Brilliant light source

By:

Kieran

on 18 June 2015

I have run an original T3 on my shotgun for a long while. It has always been a reliable light. It's very bright, holds up to the recoil when other brands have failed. Naturally when I needed a new light i immediately looked to Wolf Eyes. The T3 MK II is very similar. The pro cap is definitely the best addition. Being able to select the level of light before turning it on is something I have always wanted in a light. It is very suited to firearms use. I currently have it mounted to a 5.56mm rifle and it has had no problems with the recoil so far. Compared to the price of other well known tactical light brands, Wolf Eyes torches are the clear winners. And the T3 is one of their best in my opinion.




(5)
Amazingly Bright!!!

By:

Darren

on 2 June 2015

I recently bought the T3 11 Pro and was blinded by how bright it was, it is literally like flicking on the sun. Not only did it come with the torch, battery & charger, there was a small keyfob LED light which is also so bright it borders on ridiculous. Very happy that i chose wolf eyes. The after service was impeccable as well. Thanks guys.




(5)
---
Others Also Bought
---
More From This Category