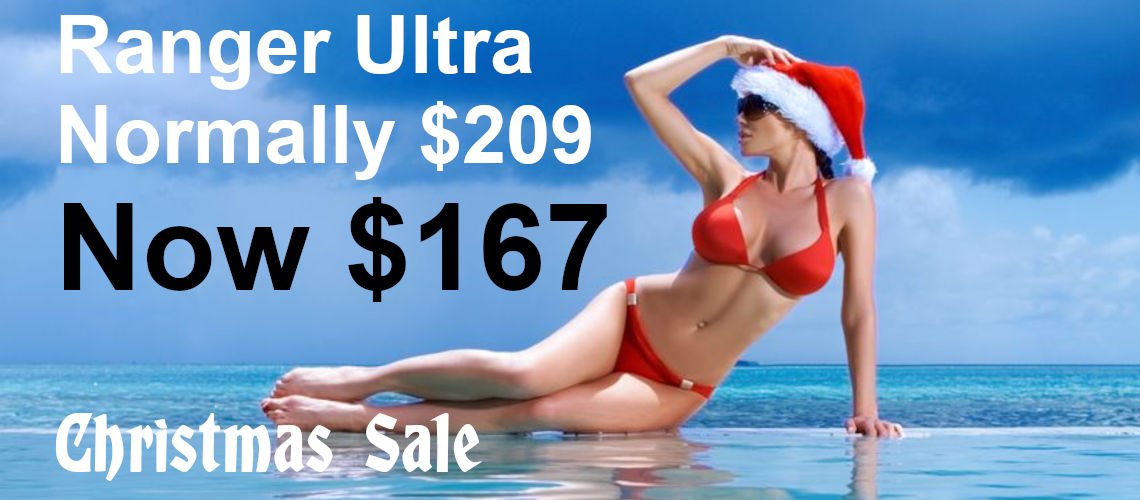 Lumens: 1620 lumens
Weight with battery: 315 grams
Throw: 375 metres (ANSI 645 metres)
Length: 190 mm
Beam Type: Aspheric – spot adjustable to flood
The Ranger 56 Dual-Tailcap Ultra has outstanding throw and huge light output from a modestly sized hand held torch. Supplied complete with tapeswitch so it can be mounted, rechargeable high discharge battery and charger, the torch can also be charged from any USB plug. This LED torch has our Dual-Tail which gives four levels of light output and can be used as a regular tailcap or have the included tapeswitch attached. The Ultra version uses the new extremely high output LEDs and our high discharge batteries to give you maximum throw and output from as compact a size as possible.
The Ultra is an update on a favourite, the Ranger 56 Dual-Tailcap, but utilises an extemely high output LED. These LEDs have been out for a little while, but produce very high heat which has made them hard for manufactures to use effectively. Most use a very crude method of just turning the power down after a minute or so - hardly the reason you buy a high output torch and very unsatisfactory. It has taken some time to learn how to tame the heat, but a combination of a new thermal paste and flatter mounting base has enabled us to get the heat from the LED and transer it to our Thermal Transfer Tube in the body of the torch. This means when we quote an output and runtime the torch can do it withut turning down to low output - real performance.
Light and Output
The long throw of the Ranger 56 Dual-Tailcap is achieved by many factors, some of the most important being the 56mm head housing an aspheric lens (magnifying glass) and also the distance of the LED from this lens. This greater than average distance allows better pinpoint foucus, similar to when a magnifying glass is used to light paper in the sun, you need to move back far enough to get a highly focussed point. The lens and distance, combined with the natural throw of the extremely high output LED make for a long throwing torch.
The high beam will provide 375 metres of distance (645 metres ANSI spec) for 1 hour and 40 minutes, medium/high provides 4 hours of runtime, medium provides 6 hours 40 minutes and low is an amazing 55 hours of runtime - all weekend!
The Ranger 56 Dual-Tailcap Ultra utilises a rotary focussing system, to adjust the beam from long throwing spot to wide flood.
Construction and Thermal Transfer Tube
Your Ranger 56 Dual-Tailcap Ultra is constructed of aircraft aluminium (6061 -T6) but most importantly has a brass liner which runs the whole length of the body. The purpose of this is brass liner is multifold, one the combination of metals is stronger than either individually and secondly it enhances the electrical connection and current capability. Thirdly and most importantly, the function of the Thermal Transfer Tube is to drag damaging heat away from the LED. Once you overheat an LED it suffers permanently reduced output, forever. This problem is common in torches with lightweight bodies which provide little to no heatsinking. With these new higher output LEDs and their huge heat outputs the Thermal Transfer Tube becomes more important than ever.
Regulation
The Ranger 56 Dual-Tailcap Ultra is regulated, meaning the torch doesn't dim as the battery flattens. All batteries produce lower voltage as they use up energy, in incandescent torche sthis shows quickly but even in LED torches this can show quickly especially with high output LEDs. The regulation unit in your Ranger torch automatically increases the amperage as the voltage lowers to maintain a 100% consistent output. As well as giving you 100% consistent output it also protects the LED from spikes from fresh batteries.
Rechargeable Batteries
The HDB-168 (high discharge 18650) batteries used in the Ranger 56 Pro Ultra will also work in all our other headlamps and torches. Our batteries are all protected for your protection. The standard Wolf Eyes LRB-168 battery used in other models will fit and work in the Ultra series but will not allow the Ultra series to reach full output due to their high current requirement.
Cold Weather
Due to our Lithium Ion batteries and construction your Wolf Eyes Ultra torch will work from -200 C to +600 C.
Australian Support
Your Wolf Eyes Ranger 56 Dual-Tailcap Ultra is fully supported in Australia, like all Wolf Eyes torches sold here. We contractually have to carry spares for our Police and Military partners, so ample spares are on hand. We have a 1300 911 007 number to provide advice all over Australia with an after hours answering service so you can get assistance during working hours.
In the Box
Ranger 56 Dual-Tailcap Ultra
Tapeswitch
High Discharge Rechargeable Battery
USB Charger
(207-wolfeyes-rangerUHF)
| | |
| --- | --- |
| SKU | 207-wolfeyes-rangerUHF |
| Brand | Wolf Eyes LED Torches |
| Shipping Weight | 0.0001kg |
| Shipping Width | 0.001m |
| Shipping Height | 0.001m |
| Shipping Length | 0.001m |
Be The First To Review This Product!
Help other wolfeyes.com.au users shop smarter by writing reviews for products you have purchased.
---
Others Also Bought
---
More From This Category