Lumens: 1,620 Continuous Lumens
Weight with battery: 218 grams
Throw: 150 metres (ANSI/FL 267 metres)
Length: 154 mm
Beam Type: Reflector – Spot surrounded by flood
The new 'ULTRA' versions of the Sniper II Pro have arrived, we are very impressed! Giant throw and light output. Extremely high output LEDs have been out for a while, most manufacturers have met the challenge of managing the huge heat output of these LEDs by running for a couple of minutes, doing limited damage and wear, then dropping down in output. As most of our users are professionals or frequent users, this limited damage would have eventually added up. We now have an LED we can safely run at full output for the full rated time. No dropping down a level just when you need bright light!
The Sniper II Pro 'Ultra' is a compact high intensity tactical LED torch with 6 levels including two strobes and a monstrous 1,620 lumen output. Only a few short years ago this output was unimaginable in a compact handheld torch, now all this is in your hand. This is the torch chosen by SAPOL (South Australia Police) for their whole Police force, as well as being chosen by many specialist Police and Defence units throughout Australia. We would probably consider the Sniper II Pro 'Ultra' as one of the best General Duties flashlights available. It also makes a great general use torch!
Light Output and Beam Pattern
Interesting subject, light output and advertising! We have considered building some of our torches with very high initial outputs, which then quickly drop within a minute or so down to a third or so of the initial output. This would be great for advertising but as most of our users are professional users, often using their torches in situations where safety is paramount, we don't. A brighter light dimming can both actually reduce how far you can see (though not by that much, lumens themselves are not as big a driver as design for distance) but also ability to see as your pupils adapt to the greater glare and then take to 10 to 15 minutes to adapt to lower glare. Also utilising the LEDs like this results in a shortened lifespan. So that is why our lumens are continous, not a shooting star!
The 1,620 lumen LED in the Sniper II Pro 'Ultra' LED rechargeable torch provides a good beam out to 150 metres. The reflector head provides a beam of spot surrounded by flood and a solid pool of light in the midrange. There are 6 levels of light output – high, medium, medium/low, low, slow emergency strobe and fast disorientating strobe. The Sniper II Pro 'Ultra' utilises a 35mm head to give a 150 metre throw. We believe the Sniper II Pro 'Ultra', Sniper II Mini and Pro Police are our equal best Police torches, the difference being the head size to give the required throw.
The Sniper II Pro 'Ultra' provides 1 hour 40 minutes of light on high with the standard battery and 55 hours hours on low.
Procap
The Procap is a conventional tailswitch in the centre but has a ring around the outside to change levels. This can be used to change the level of the torch when it is on or before it is turned on. Particularly useful for say picking low before turning on to not cause too much reflection when reading or say selecting strobe before approaching offenders. It offers two strobe levels, a fast disorientating strobe and a slower emergency strobe. While unlikely that anyone will use the Sniper II Pro as a barrel mounted torch with the Magnetic Mount (Police applications would usually use a picatinny rail mount) it is worth noting the magnets in the Procap are not compatable with the magnetic mount, we suggest installing the standard tailcap if using that mount.
Thermal Transfer Tube and Construction
The Sniper II Pro features the Wolf Eyes Thermal Transfer Tube which is a brass liner designed to drag damaging heat away from the LED and radiate it from the body, basically using the whole bodies thermal mass as a heatsink to radiate the heat away. The body is constructed of 6061-T6 aircraft aluminium, the two metals bonded together creating a structure stronger than either metal individually. Thirdly this brass liner also provides better electrical conductivity. The body is a standard 25.4 mm (1") allowing fitment to numerous mounts and also a good size to carry. The body is finished in a low temperature Hard Anodizing in tactical black.
The reflector is made of high temperature coated alloy, with layers of alloy films for a long lasting reflective finish.
Regulation
Being Regulated means your Wolf Eyes Sniper II Pro 'Ultra' LED torch doesn't dim as the battery flattens. The regulation unit always maintains the optimum amount of power to the LED, meaning that as the voltage decreases as the battery flattens we increase the amperage to still provide the same current to the LED. This also works in reverse, contrary to what is advertised you do not want to use multiple batteries to overpower your LED, while it will shine brightly for a short time it will eventually overheat and suffer reduced output for the rest of it's remaining life.
Rechargeable Batteries
The Sniper II Pro 'Ultra' uses a LRB168HDB (18650- High Discharge Battery) lithium ion protected batteriy. This is the same size as the rest of the Wolf Eyes LED torch and headlamp range, meaning you can share this batterry between your torches and headlamps. Your other Wolf Eyes batteries are not recommended to use in the Sniper Pro II 'Ultra', they will work but not let the torch reach maximum output. Due to the lithium ion batteries good output only one is required, meaning we can keep the 25.4 mm (1") torch body size and modest length. These are protected batteries, meaning there is a computer protection chip built into the battery, which controls charging, discharging and most importantly over discharging. Being rechargeable means low running costs for you. Two disposable CR123A batteries will also power your Sniper II Pro 'Ultra' LED torch.
Cold Weather
Due to the Lithium Ion batteries the Sniper II Pro 'Ultra' LED flashlight works well in sub zero conditions, unlike most batteries which lose substantial reserves of energy if used in lower temperatures. The picture below is of a Wolf Eyes Sniper 11 LED flashlight on low, which was then put in the freezer and frozen. After 4 days it was still shining – inside the ice cube!
Australian Approved Charger
Your Wolf Eyes LED torch is supplied with an Australian Approved Charger, meaning firstly it is safe for your or your staff and secondly all your insurances apply (Building, Workers Comp, Home).
Upgradeable
The Sniper II Pro 'Ultra' flashlight has a removable LED which can be upgraded when suitable newer LEDs come out.
Waterproof
As can be seen a number of Wolf Eyes torches are waterproof including the Sniper II Pro 'Ultra', but we would recommend something from our diving line for diving use.
Personalisation
The Wolf Eyes Sniper II Pro 'Ultra' LED torch can be personalised to suit your unit, division, command, team or organisation with engraving on the side. A great way to reduce loss and build pride.
Support
The Wolf Eyes Sniper II Pro 'Ultra' torch is supported in Australia with a full range of spares and a 1300 911 007 phone number to answer your questions. Due to the large number of Police and Military units using Wolf Eyes torches and lights in Australia, including the whole of the South Australian Police using this exact Sniper II Pro torch and many, many other specialist units, we are both morally and contractually obligated to have adequate spares on hand, which we do and also service facilities. As well as this, after hours the 1300 911 007 number is answered by live operators to take your message so it can be attended to in working hours. For your safety we want to keep your torch always working.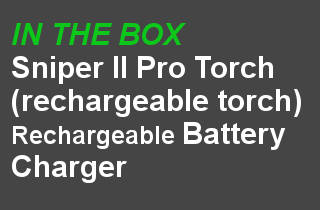 The Sniper II Pro Ultra was reviewed by 'Flashlight Crazy' , the review is here: Review
(218-wolf-eyes-sniper-prou)
| | |
| --- | --- |
| SKU | 218-wolf-eyes-sniper-prou |
| Brand | Wolf Eyes LED Torches |
| Shipping Weight | 0.0001kg |
| Shipping Width | 0.001m |
| Shipping Height | 0.001m |
| Shipping Length | 0.001m |
Sniper II Pro Ultra

By:

Donald Barwick

on 14 October 2022

With Terri's help she suggested this torch for use in my invasive species pest management business. After the first use and with the adjustable power settings it is an excellent torch for my purposes. I would highly recommend the purchase of an additional battery for extended use.




(5)
Sniper || Pro Sensational

By:

Werner Blazejewski

on 15 September 2022

I have had many torches in my 30 yrs of security, but the Sniper || Pro is the best torch I have had. Light weight strong, durable, and able to withstand any conditions. I highly recommend Sniper || Pro for any field you work in.




(5)
Very good

By:

withheld

on 12 August 2022

We are already use a number of these and have just bought the newer Ultra version. We thought the others were good but there is a very big improvement in performance with the Ultra version. Seems to be built the same so should have the same bulletproof reliability we have had from the previous version. If you are in the job this is recommended.




(5)
Sniper 2

By:

Saul Robinson

on 13 July 2022

This torch is just amazing. I upgraded from the defender2. I thought that torch was bright. This one is astounding. I love it.




(5)
---
Others Also Bought
---
More From This Category