Lumens: 1620 lumens
Throw: 125 metres (real world, ANSI is 267 metres)
Length: 130 mm
Beam Type: Reflector – Spot surrounded by flood
The Sniper is the original rechargeable tactical torch. It's modest dimensions contradict its 1620 lumen output. It features multiple levels of output, is regulated and rechargeable. This torch is equally at home on an appointment belt, in a jean pocket around the campfire or on the end of an entry weapon.
Light Output and Beam Pattern
The Sniper Ultra has a 1620 lumen LED which will reach 125 metres. This LED is housed in a reflector head which means the beam is a combination of spot surrounded by flood, perfect for searching, no matter if that searching is for an offender or for your dog. The modest depth of the reflector is reflected in the throw, if you want more try a Sniper II Pro or Pro Police.
The Wolf Eyes Sniper Ultra torch also features a high, medium, low output and strobe. The low beam is great for reading or writing without getting too much reflection from the paper, the LED strobe is great for emergencies.
TTT and Construction
The Sniper Ultra LED flashlight features the Wolf Eyes Thermal Transfer Tube (TTT) which is a brass liner designed to drag damaging heat away from the LED and radiate it from the body, basically using the whole body as a heatsink to radiate the heat away. The flashlight body is constructed of aircraft aluminium with a brass liner, the two metals together creating a structure stronger than either individually, then hard anodised black. The body is a standard 25.4 mm (1") allowing fitment to numerous firearm mounts and also a good size to carry.
Regulation
Being Regulated means your Wolf Eyes Sniper Ultra torch does not dim as the battery flattens. The regulation unit always provides the optimum amount of power to the LED, meaning that as the voltage goes down as the battery flattens we increase the amperage to still provide the same current to the LED. This also works in reverse, contrary to what is advertised you do not want to use multiple batteries to overpower your LED, while it will shine brightly for a short time it will eventually overheat and suffer reduced output for the rest of it's life.
Rechargeable Batteries
The Sniper Ultra LED torch uses our HDB168 (18650) rechargeable battery which is a protected lithium ion battery. This battery is able to discharge large currents instantaneously. Being Lithium Ion means the battery has large reserves of power, meaning only one is required which keeps the torch profile within 25.4mm, important for a professional use flashlight and compatibility with all mounts.
Cold Weather
Due to the rechargeable Lithium Ion batteries the Sniper flashlight works well in sub zero conditions, unlike most batteries which lose substantial reserves if used in lower temperatures. The picture below is of a Wolf Eyes Sniper torch on low, which was then put in the freezer and frozen. After 4 days it was still shining – inside the ice cube!
Australian Approved Charger
Your Wolf Eyes torch is supplied with an Australian Approved Charger, meaning firstly it is safe for your or your staff and secondly all your insurances apply (Building, Workers Comp, Home).
Upgradeable
The Sniper Ultra rechargeable LED torch has a removable LED which can be upgraded when suitable newer LEDs come out. The Sniper originally started with 100 lumens!
Waterproof
As can be seen a number of Wolf Eyes torches are waterproof including the Sniper, but I would choose something from our diving line for diving use.
Support
The Wolf Eyes Sniper LED torch is fully supported in Australia with a full range of spares and a 1300 911 007 number to answer your questions. Due to the large number of Police and Military units using Wolf Eyes torches, headlamps and lights in Australia, including the whole of the South Australian Police and many, many other specialist units, we are both morally and contractually obligated to have adequate spares on hand, which we do and also service facilities. As well as this, after hours the 1300 911 007 number is answered by live operators to take your message so it can be attended to in working hours. For your safety we want to keep your torch always working.
We have been lucky enough have been reviewed by 'Flashlight Crazy', please see their review here: https://www.youtube.com/watch?v=fcGMpNOP8XQ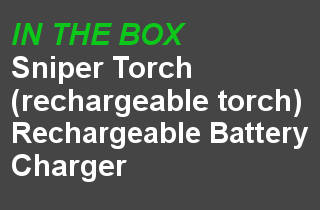 A brief view of the beam of the Wolf Eyes Sniper
This is the unit under NSW Police Contract GPLS-2020-001. If your unit or as a NSW Police Officer personally would like to purchase under this contract please call the office to discuss.
(251-wolf-eyes-sniper-U)
| | |
| --- | --- |
| SKU | 251-wolf-eyes-sniper-U |
| Brand | Wolf Eyes LED Torches |
| Shipping Weight | 1.0000kg |
Lumens 350 Throw 100 metres 130m long
Still the best

By:

Alice

on 19 February 2023

6 years ago I purchased this torch, to go out in the yard with my dogs, for their late night walk before sleep time. The torch is still going strong after using it every night! Still lights up the whole backyard if needed. I've just purchased another one, so my hubby has one too for his use. Can highly recommend it.




(5)
best torch I've ever owned

By:

Alice

on 11 November 2017

I go for a short walk with my dog every night on our property and needed a good reliable torch. I have found it! I can dim the light but mostly use the highest setting, which lights up the whole backyard, great to spot potential snakes or find my dog. The ON push button is clearly made for strong thumbs, I have to use my index finger to switch the torch on. Not a problem just different to all other (cheaper) torches I've owned so far. I use this torch every night, so it is money well spent. Highly recommended.




(5)
best torch I've ever owned

By:

Alice

on 8 November 2017

I go for a short walk with my dog every night on our property and needed a good reliable torch. I have found it! I can dim the light but mostly use the highest setting, which lights up the whole backyard, great to spot potential snakes or find my dog. The ON push button is clearly made for strong thumbs, I have to use my index finger to switch the torch on. Not a problem just different to all other (cheaper) torches I've owned so far. I use this torch every night, so it is money well spent. Highly recommended.




(5)
Wolf Eyes Sniper LED torch

By:

Carol Collins

on 19 April 2016

Small, compact and lightweight. Very good, bright light for up close and for quite a distance -up to 100m. Great service, quick delivery.




(5)
The best little torch ever!

25 July 2015

I use this torch every evening when I take my dogs for their toilet before bed time. No need to have two torches (one for each dog) anymore. The sniper lights up the whole yard.




(5)
Sniper stands the test of time.

By:

Michael.

on 2 June 2015

I have had one the Sniper torches for about 8 years now. It has been a fantastic little torch. gets used every day around the house. Comes camping on holidays & on hunting trips. It has to be the most used & versatile torch I have ever purchased. I will not hesitate to buy another Wolf Eyes product when the need arises.




(5)
Goes everywhere with me

By:

Russell

on 2 June 2015

A great, small, and dependable torch that goes everywhere with me. If its not in the car then its in my backpack when hunting or near the front door at night. Battery has great shelf life when not used and needs recharging very little even when in use.




(5)
Must have for your EDC ( Every Day Carry )

Simply the best value for money, I have several of these and cannot fault them. They stand up to any abuse and keep going. Crisp, clear light and great run time. I also mount this to my mountain bike for early morning/evening rides. Keep one in the car/shed and you will understand what I mean by being great value for money.




(5)
Fantastic reliable little torch

By:

Andrew

on 2 June 2015

I've had this torch for about 5 years and it is still fantastic! It's bright and I love the fixed focus beam with spill light. It's perfect for close to medium range work like writing, or clearing a house. The build quality is exceptional and I have never had a problem or had to replace anything on the torch.




(5)
---
Others Also Bought
---
More From This Category