Weight with battery: 315 grams
Length: 190 mm
Beam Type: Aspheric – spot adjustable to flood
At Wolf Eyes we try to continually evolve our products, the Ranger RED LED Torch being no exception. Every so often we make a huge jump in a certain class of torch, the Ranger RED LED torch is that huge jump.
The Ranger RED LED torch achieves it's throw in three ways 1) By using one of the new Hi Intensity LED chips which inherently throw well 2) The large aspheric lens (magnifying glass) enables more throw by it's greater ability to focus tightly 3) The focal distance from the lens is greater than the average LED torch, allowing better distance focus - somewhat similar to when you light paper with a magnifying glass, you need to get far enough back to focus the sun to a spot.
Light Output and Beam Pattern
The Ranger RED LED torch with its large aspheric head and greater focal distance than usual between LED and aspheric lens (magnifying glass) concentrates every one of its lumens into it's spot to provide a good beam out to 150 - 200 metres. This can be adjusted back to flood. There is a high beam, medium and low beam on the hunting torch version with it's dual tailcap (which includes a tapeswitch) and on the Procap version (best for general use) there are four levels and two strobes.
The runtime for this powerful throwing LED torch is 1 hour 30 minutes on High (100%), 2 hours 52 minutes on Medium/High (50%), 5 hours on Medium (20%) and 45 hours on Low (2%).
Red
The Ranger 56 is available in a RED version, for those who want to be less obvious to their game. Red traditionally isn't a high impact light to either animals or humans, so the large head of the Ranger 56 RED LED torch really helps in getting that red light downrange.
The Ranger RED comes with a Pro Cap, a dual tailcap can be used on this torch also.
The Wolf Eyes Procap has one easy large button and then allows easy changing of levels by rotating a ring on the base of the torch and offers two strobes and four levels of light output.
It is worth noting the magnets in the Pro Cap are not compatable with the magnetic mount, we suggest installing the standard Dual Hunting Tailcap if using a magnetic mount.
TTT and Construction
Like all of the Wolf Eyes General and Hunting Torches the Ranger 56 torch is built around the brass TTT – Thermal Transfer Tube. The Thermal Transfer Tube has three benefits, it strengthens the total body structure, it enhances electrical conductivity and most importantly drags damaging heat away from LED. If overheated LEDs suffer permanently reduced output. This means your LED torch has reduced output for the rest of it's life, a common complaint from LED torches with lightweight bodies which provide little to no heatsinking. Modern LEDs produce little heat in low output form, but in high output form they then produce high heat outputs. It is worth remembering that LEDs now produce many times the output of a similar size incandescent torch.
The rest of the torch's body is made from aircraft grade aluminium 6061-T6 which is then low temperature (-20o C) Hard Anodized tactical black.
Regulation
The Ranger 56 LED Torch is regulated, meaning the torch doesn't dim as the battery flattens. Torches usually dim as the battery flattens, sometimes just a little and often a lot. This is true of incandescent torches and LED torches. This is because the battery reduces in voltage as it flattens or discharges. The solution to this is regulation, this increases the amperage as the voltage is reduced, so the optimum power or current is always supplied to the LED ensuring your torch continues at optimum brightness. This also ensures your LED wont partially overheat from a too strong battery, again causing reduced output for the life of the torch.
Adjustable Focus
The Ranger 56 LED flashlight has adjustable focus from spot to flood. This adjustable focus is acheived by screwing the head (rather than push/pull) so the torch is more resistant to recoil on heavy calibres.
Rechargeable Batteries
The Wolf Eyes LRB168P lithium ion battery (18650) supplied with the Ranger 56 LED torch is also used in all our other hunting torches, LED torches and headlamps, giving you interchangeability. This is both an energy dense battery (meaning you only need one and so can keep the 25.4mm – 1" -standard firearm body size) and also protected for your safety. The Dual Tailcap also features a spring within it, combined with the spring at the front of the battery compartment, the two springs contain the lithium ion rechargeable battery which can move but electrical contact is maintained at all times, even with the recoil of heavy calibres.
Cold Weather
All Lithium Ion powered Wolf Eyes LED torches work well in cold weather, the Ranger 56 LED hunting flashlight is no exception, being rated from -20o C to +60o C.
Australian Approved Charger
The Ranger 56 LED torch features USB internal charging, meaning you can recharge it from any USB point, in your car, office, powerbank, etc. The charger with your Wolf Eyes LED Torch is Australian Approved, meaning that you can feel safe using it and all your insurances will apply.
Support
Your Wolf Eyes Torch is fully supported within Australia. We have spares here with solid stocks to support our Police and Military partners, we also have a 1300 911 007 phone number to provide over the phone assistance. After hours there is live answering on this line so you can be looked after during working hours.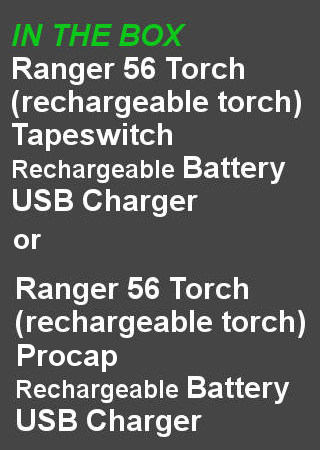 (208-wolfeyes-ranger-torch)
| | |
| --- | --- |
| SKU | 208-wolfeyes-ranger-torch |
| Brand | Wolf Eyes LED Torches |
| Shipping Weight | 0.0025kg |
| Shipping Height | 0.006m |
| Shipping Cubic | 0.000010000m3 |
Security

By:

Michael

on 18 October 2017

I got this one as I'm night patrol security. I have been totally staggered as to it's performance. Other lights on the market don't come close to this. Even the police I deal with are impressed by this light. I love it & I will be ordering lots more in the future.




(5)
Wow

By:

Alistair

on 25 August 2017

Cannot recommend this product highly enough, tough construction and the flexibility of being able to focus or diffuse the beam makes this very versatile.The service from Wolfeyes was exceptional- email notifications about delivery and follow up fantastic- received torch quickly




(5)
Ranger 56 torch

By:

David hall

on 4 May 2017

This torch is awesome, by far better than I was expecting, great beam and depth




(5)
Excellent Product

By:

Gerard

on 26 April 2017

After looking at similar torches for some time I settled on the Wolf Eyes Ranger. It arrived promptly from the supplier, and after an overnight charge I set out the following nights to look for wildlife. Its light to carry and has an easy beam focus bezel at the front. The three step switch is easy to access on the rear of the torch and toggles easily through the power settings. Its a powerful light and easily covers the 200m range with effective light beyond that. Close up and on wide focus its a terrific general light. Narrow the beam and its a very competent spotlight. Battery life has been good and recharge times are modest. Carrying a second battery is recommended for longer use (over 1.5 hours) where full power is used.




(5)
Ranger 56

By:

Rebekka Jays

on 5 April 2017

Super fast shipping, but more importantly, great torch! Just right size, good build quality and actually throws as far as it claims. Very happy customer.




(5)
ranger56

By:

graeme dickinso

on 14 March 2017

Excellent torch. USB charger a great addition. Range is really amazing for such a small torch




(5)
Awesome

By:

Trent "One Shot"

on 14 February 2017

PROS - throws further than a quarterback - small - CONS - none so far




(5)
Very Good

By:

Angelo

on 13 February 2017

I have a bunch of Wolf Eyes and other torches, but get out a lot so ordered one of these Rangers as soon as I saw the email. Arrived Friday and tried it at the oval at the end of my street. Pretty impressed, throws 50% more than other Wolf Eyes except the Seal, probably 3/4 as strong as that, but of course has the much smaller head. All in all couldn't be happier with the torch, another winner, thanks guys.




(5)
---
Others Also Bought
---
More From This Category