Lumens: 1620 LED lumens
Weight with battery: 417 grams
Throw: 330 metres
Length: 190 mm
Beam Type: Aspheric – spot adjustable to flood
The Trooper, a brand new torch model! We are pretty excited about this model, relatively modest size, bezel 56mm, great output and a useful increase in spot size for those who prefer a larger spot. Available with the handy Procap for general use or with the Dual Tailcap (including tapeswitch) for scope mounted use.
We are utilising the SST-40-W LED with 1620 lumens. This LED , and quite a few other of the new LEDs have presented with us with a few opportunities and plenty of work. While many presented high outputs, the problem for us was to meet the standards of longevity, reliability and retained performance which Wolf Eyes are known for. Quite a few of the new LEDs proved to be bright initially but faded (as all LEDs will eventually do) prematurely. Heat management is probably the biggest thing on these new LEDs, opn top of our Thermal Transfer Tube (the heavy brass liner in the body) which features in all our professional torches, we added a substantial amount of cooling fins to cope with the output so you achieve a long service life out of your Trooper torch. As well as our standard power regulation we have added a high discharge battery to work with the regulation to better manage your high output flashlight.
The solid feel and construction, the high light output, the variable levels of output, the emergency strobe, the disorientating strobe - all up there is a lot to like about the new Trooper.
Apologies for the lack of photos and videos, the Trooper flashlight is absolutely brand new!
Light Output and Beam Pattern
The Trooper torch with its large 56mm aspheric head and greater focal distance than many torches use between LED and aspheric lens (magnifying glass) concentrates it's spot to provide a good beam out to 330 metres. This beam spot is about 50% larger than the one in the Ranger 56, well suited for those who like to scan a lot in one pass. This can be adjusted back to flood. There is a high beam, medium and low beam on the hunting torch version with it's dual tailcap (which includes a tapeswitch) and on the Procap version (best for general use, though also can be used on a scope) there are four levels and two strobes.
The runtime for this powerful throwing LED torch is 1 hour 30 minutes on High (100%), 3hours 40 minutes on Medium/High (50%), 6 hours on Medium (20%) and 51 hours on Low (2%).
Dual Tailcap or Procap?
Should you choose the Procap version or Dual Tailcap version of the Trooper flashlight?
The Trooper is available with your choice of Procap or Dual Tailcap. Most people who would want to mount their Trooper on a scope would use the Dual Tailcap version, those who want to use it for general use often choose the Procap Tailcap version. The Trooper Pro version is also suitable to mount onto a scope as there is a spring in the Pro Cap just like in the construction of the Dual Hunting Tailcap.We would recommend the Trooper Pro model if the torch was to be used primarily for general purposes and only a small percentage of the use to be mounted onto a scope.
The Wolf Eyes Dual Tailcap means you can use it like a regular tailcap or screw on the included tapeswitch for faster control of your hunting torch via the tapeswitch (the switch on the torch still works with the tapeswitch attached). There are four levels of light output available with the Dual Tailcap.
The Wolf Eyes Procap has one easy large button and then allows easy changing of levels by rotating a ring on the base of the torch and offers two strobes and four levels of light output.
It is worth noting the magnets in the Pro Cap are not compatable with the magnetic mount, we suggest installing the standard Dual Hunting Tailcap if using a magnetic mount.
TTT and Construction
Like all of the professional Wolf Eyes torches the Trooper torch is built around the brass TTT – Thermal Transfer Tube. The Thermal Transfer Tube has three benefits, it strengthens the total body structure, it enhances electrical conductivity and most importantly drags damaging heat away from LED. If overheated LEDs suffer permanently reduced output. Due to the high heat outut of this new LEDs, we have added many cooling fins to the head, as well as the Thermal Transfer Tube. This means your LED torch has reduced output for the rest of it's life, a common complaint from LED torches with lightweight bodies which provide little to no heatsinking. Modern LEDs produce little heat in low output form, but in high output form like the SST-40-W they then produce high heat outputs. It is worth remembering that LEDs now produce multiple times the output of a similar size incandescent torch.
The rest of the torch's body is made from aircraft grade aluminium 6061-T6 which is then low temperature (-20o C) Hard Anodized tactical black. Total weight is 385 grams, giving a satisfying feel in the hand.
Regulation
The Trooper LED Torch is regulated, meaning the torch doesn't dim as the battery flattens. Torches usually dim as the battery flattens, sometimes just a little and often a lot. This is true of incandescent torches and LED torches. This is because the battery reduces in voltage as it flattens or discharges. The solution to this is regulation, this increases the amperage as the voltage is reduced, so the optimum power or current is always supplied to the LED ensuring your torch continues at optimum brightness.This is very important with a high output LED like the one in the Trooper. This also ensures your LED will not partially overheat from a too strong battery, again causing reduced output for the life of the torch.
Adjustable Focus
The Wolf Eyes Trooper LED flashlight has an adjustable focus from spot to flood. This adjustable focus is acheived by screwing the head (rather than push/pull) so the torch is more resistant to recoil on heavy calibres.
Rechargeable Batteries

The Wolf Eyes LRB168HDB lithium ion battery (18650 size) supplied with the Trooper LED torch can also be used in all our other hunting torches, LED torches and headlamps, giving you interchangeability one way. The standard batteries are not really suitable to properly power this LED with it's high drain capacity. While the same size as our regular 18650 batteries, this is a high drain version meaning it can safely put out more of it's power at one time. This is both a very energy dense battery (meaning you only need one and so can keep the 25.4mm – 1" -standard firearm body size) and also protected for your safety. The Dual Tailcap also features a spring within it, combined with the spring at the front of the battery compartment, the two springs contain the lithium ion rechargeable battery which can move but electrical contact is maintained at all times, even with the recoil of heavy calibres.
Cold Weather
All Lithium Ion powered Wolf Eyes LED torches work well in cold weather, the Trooper LED torch and it's LRB168 HDB battery is no exception, being rated from -20o C to +60o C.
Australian Approved Charger
The Wolf Eyes Trooper LED torch features USB internal charging, meaning you can recharge it from any USB point, in your car, office, powerbank, etc. The charger with your Wolf Eyes LED Torch is Australian Approved, meaning that you can feel safe using it and all your insurances will apply.
Support
Your Wolf Eyes Torch is fully supported within Australia. We have spares here with solid stocks to support our Police and Military partners, we also have a 1300 911 007 phone number to provide over the phone assistance. After hours there is live answering on this line so you can be looked after during working hours.
Holster
There is a holster to suit this torch - Trooper Holster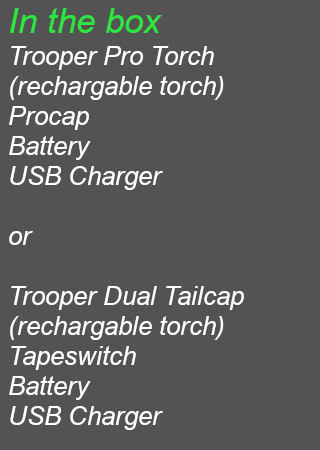 (207-wolfeyes-trooper)
| | |
| --- | --- |
| SKU | 207-wolfeyes-trooper |
| Brand | Wolf Eyes LED Torches |
| Shipping Weight | 0.0500kg |
| Shipping Width | 0.005m |
| Shipping Height | 0.005m |
| Shipping Length | 0.005m |
Trooper with pro cap is just superb.

By:

DAVID C BODYCOMB

on 29 July 2022

I received my Trooper tonight arrived promptly have charged and taken out for a test and im blown away frankly, its a hunters or campers dream it is very powerful and the adjustable spot is very tight the best ive owned, i also own a WE Nitehunter & love that. These Led spotters from WE are next level compared to the others in all the right ways, i shall tell you for why and that's this, the copper cored thermal heatsink not only dissipates the heat superbly it also creates a 2 metal soft [copper] hard [aluminum] composite combination that makes the torch tube stronger then just aluminum, the two metals ductile differences combined together make it very very immune to cracks, breakage, dents from drops or the like as well as excellent thermal dissipation. They don't overheat nor do they thermally throttle like similar priced but lesser quality brands they are built like proper tanks in comparison, ive owned brands X Y & Z good enough and similarly priced but neither compare to either WE i own. This is a very powerful strong well made unit excellent for hunting camping spotting and as a passive intruder security deterrent at night. The led finned heatsink is tall & spaced correctly to most efficiently dissipate heat, being the biggest issue with lesser quality spotters. You just cannot go wrong its worth every cent. This is my humbled opinion having some knowledge & experience in metal smithing engineering design and owning other brands. That's why i own two WE torches now, 5 We hi cap batteries, 3 WE chargers including a car one & two WE holsters. When i saw the trooper online @ WE and read the specs, i did not hesitate ! -------> :-) P.S Thanks Terry your fantastic. David In Rye. Bow hunter, camper & led spotter enthusiast.




(5)
Huge torch with huge output

By:

James

on 30 October 2021

The entire head assembly with cooling fins can be rotated forward for spot (adds 12mm of length) and back for flood. On full flood mode the diameter of the flood is around 84% of the projected distance, so that's quite good. The spot size is just one tenth of that. The lens is very thick and adds a lot of front-heavy weight so it's probably too unwieldy for casual use. The centre of balance is right where the USB port is. USB charging is a real score, you just rotate the sleeve to access the port. Of course the overall quality is 100% spot-on and it serves the "ultimate torch" purpose very well if you don't mind the added size/weight. Darkness is a non-issue with this thing.




(5)
Trooper

By:

Sarah Middleton

on 10 February 2021

Brilliant torch Good throw Very happy with purchase




(5)
---
You May Also Like
---
Others Also Bought
---
More From This Category