Lumens: 579 lumens white
Throw: 150 metres
Length: 170 mm
Beam Type: Aspheric – spot adjustable to flood
Do you use night vision equipment? If so the X-Beam IR Infrared may be the torch for you. It's strong output greatly extends your vision over the standard built in illuminators. A modestly priced way to greatly enhance the effectiveness of your night vision scope , goggles or monocle. Of course you do need Night Vision Equipment, if you don't have any look at our Night Vision Equipment with both thermal and night vision.
The X-Beam IR Infrared is quite a unique torch, not only does it have two separate LEDs in it (white and IR Infrared), but it has a lever to move them into and out of the perfect optical position. This way you have a torch with exactly the LED you need in it, at the right time. The reason two LEDs are needed is because LEDs only produce light in a narrow wavelength (hence why they are so efficient on batteries), if you put an IR filter over the white LED you would receive little IR or Infrared out the front, as the white LED produces little in that wavelength. Filters work by holding back all but the desired wavelength, not by converting other wavelengths. This is the reason the X-Beam was developed, to give you good light in both wavelengths, rather than be a compromise.
Light Output and Beam Pattern
The X-Beam gives a very wide spot out to about 150 metres on the white light, which can be expanded even broader (with consequent shorter throw) by screwing the rotary head. This may be useful for applications such as breaching a residential house or a warehouse, where throw is not as important. We can't give a rating for IR (infrared), as this is totally dependent on the equipment used by the operator. Not surprisingly there is a difference between $300 Ebay night vision scopes and a $15K night vision scope - or between a very good set of night vision goggles and a very good night vision scope. There is also a substantial difference between our clients, consumer night vision and the night vision available to Government Departments have different capabilities. It is fair to say most good night vision observation of the IR will exceed the white light reach.
Wavelength
The infra red LED (IR) is available in two different wavelengths, 850nm and 940nm. The 850nm will be supplied by default if no wavelength is specified (please specify in comments at checkout or on the phone) though 940nm is available at no extra charge. With most NVG 850nm works considerably better, though 940nm has a much lower visual signature. It is generally used by government departments with high end night vision gear as the output is less from 940nm. We strongly suggest all non- government users choose 850nm, there is no reason to have the reduced output if your game is not shooting back at you!
TTT and Construction
The X-Beam is built around our TTT – brass Thermal Transfer Tube and the rest of the body covering this is made from 6061-T6 aircraft grade aluminium. The idea of the Thermal Transfer Tube is to do three things, one to strengthen the whole structure, with the whole being stronger than either component, tow to provide good electrical conductivity and most importantly three, to drag damaging heat away from the LED and dissipate it through the mass of the body. LEDs can be permanently damaged by excessive heat and suffer reduced output for the rest of their life.
The head has a rotary adjustment so it can withstand recoil from heavy calibres or automatic weapons.
The body is made from 6061-T6 aircraft grade aluminium which is then low temperature (-20o C) Hard Anodized tactical black.
Dual Tailcap
The tailcap is the Wolf Eyes Dual Tailcap, which means you can use it like a regular tailcap or screw on the included tapeswitch for faster control of your light. The Dual Tailcap also features a spring in it, combined with the spring at the front of the body, the two springs contain the battery which can move but electrical contact is maintained at all times, even with heavy calibres.
Regulation
The X-Beam is regulated, meaning it doesn't dim as the battery flattens. Torches usually dim as the battery flattens, sometimes just a little and often a lot. This is because the battery reduces in voltage as it flattens. The solution to this regulation, this increases the amperage as the voltage is reduced, so the optimum power or current is always supplied to the LED.
Rechargeable Batteries
The X-Beam uses the well-known LRB168A lithium ion (18650) batteries which are protected for your safety. These can be topped up at any stage, meaning for tactical units you can stay fully capable at all times. The X-Beam will also run on 2 x CR123A disposable batteries.
Cold Weather
All Lithium Ion powered Wolf Eyes torches work well in cold weather, the X-Beam IR flashlight being rated from -20o C to +60o C.
Wound Healing 850nm Light
We have been surprised on more than one occasion when medical personnel have commented on 850nm light being used for wound healing, muscle recovery even removing wrinkles and fine lines (maybe suggest you are buying the light for your other half and just borrowing it occasionally for Night Vision use?). We did a quick google on the subject and there is a lot of information available, such as this article.
We aren't selling this light for its medical and cosmetic benefits, but if you are out hunting or on ops and fall over it is worth knowing your Night Vision Infra Red light has other uses!
Australian Approved Charger
The charger with your Wolf Eyes LED Torch is Australian Approved, meaning that you can feel safe using it and all your insurances such as Workcover, OH&S, building, will apply.
Support
The Wolf Eyes X-Beam Infra Red IR torch is supported in Australia with a range of spares and a 1300 911 007 phone number to answer your questions. Due to the large number of Police and Military units using Wolf Eyes torches and lights in Australia, including the whole of the South Australian Police and many, many other specialist units, we are both morally and contractually obligated to have adequate spares on hand, which we do and also service facilities. As well as this, after hours the 1300 911 007 number is answered by genuine live operators to take your message so it can be attended to in working hours. For your safety we want to keep your torch always working.
Digisight N850LRF with Wolf Eyes X-Beam IR This video was taken on a dark moonless night where the 160cm woman was not visible. She is at approximately 260 metres, about 20 metres closer than the tree the range finder is focussing on. We would consider 260 metres outside the distance we would recommend the Digisight N850 LRF for, but she is still visible. You then add the Wolf Eyes X-Beam IR and you can see the huge difference, we would expect a similar change difference with most equipment (similar change from without X-Beam to with X-Beam, not necessarily the same level of performance.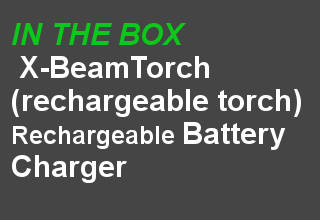 (267-wolf-eyes-xbeam-ir)
| | |
| --- | --- |
| SKU | 267-wolf-eyes-xbeam-ir |
| Brand | Wolf Eyes LED Torches |
| Shipping Weight | 1.0000kg |
Be The First To Review This Product!
Help other wolfeyes.com.au users shop smarter by writing reviews for products you have purchased.
---
Others Also Bought
---
More From This Category