The X-Beam UV is two torches in one. It has a 400nm LED inside it and also a white LED - you can change between the two at the flick of a lever, the white adding a degree of usefulness and safety to a UV Ultra Violet torch. As well as being able to flick between Ultra Violet and white LEDs, you can also vary the intensity of output with the Procap tailcap to suit your needs. The UV Ultra Violet light is 400nm in wavelength.
Light Output and Beam Pattern
The X-Beam torch gives a very wide spot out to about 150 metres on the white LED, which can be expanded even broader (with consequent shorter throw) by screwing the rotary head.
Wavelengths
The UV Ultra Violet light is 400nm in wavelength.
TTT and Construction
The X-Beam hunting torch is built around our TTT – brass Thermal Transfer Tube and the rest of the flashlight body covering this is made from 6061-T6 aircraft grade aluminium. The idea of the Thermal Transfer Tube is to do three things, one to strengthen the whole torch structure, with the whole being stronger than either component, two to provide good electrical conductivity and most importantly three, to drag damaging heat away from the LED and dissipate it through the mass of the torch body. LEDs can be permanently damaged by excessive heat and suffer reduced output for the rest of their life.
The torch body is made from 6061-T6 aircraft grade aluminium which is then low temperature (-20o C) Hard Anodized tactical black.
Procap
The Procap gives the ability to preselect the level of output before you turn it on (or after). This means you can select low to read without blinding yourself with glare, or select disorientating strobe before approaching an offender. The Procap is a ring around the conventional tailswitch and is easily adjusted with one hand. The Procap is unique in that it doesn't turn off between levels, so you are never left in the dark, even for a split second, by your Wolf Eyes torch. Photographers often choose this cap as it allows you to tailor the amount of light to the job at hand.
Regulation
The X-Beam UV Ultra Violet LED torch is regulated, meaning it doesn't dim as the battery flattens. Torches usually dim as the battery flattens, sometimes just a little and often a lot. This is because the battery reduces in voltage as it flattens. The solution to this regulation, this increases the amperage as the voltage is reduced, so the optimum power or current is always supplied to the torches LED.
Rechargeable Batteries
The X-Beam hunting torch uses the well-known LRB168P lithium ion (18650) batteries which are protected for your safety. These are used in all Wolf Eyes Hunting Torches and Headlamps for total compatibility. They are energy dense, so only one is needed, enabling the friendly 25.4mm (1") torch body size to be used. The batteries are also protected for your safety.
Cold Weather
All Lithium Ion powered Wolf Eyes hunting torches work well in cold weather, the X-Beam UV Ultra Violet flashlight being rated from -20o C to +60o C.
Australian Approved Charger
The charger with your Wolf Eyes LED Torch is Australian Approved, meaning that you can feel safe using it and all your insurances such as Workcover, OH&S, building, will apply.
Support
Your Wolf Eyes X-Beam UV Ultra Violet torch is supported with a range of flashlight spares in Australia. There is also a 1300 911 007 number for questions or queries, this number also has live answering after hours so you enquiry can be logged and attended to in business hours.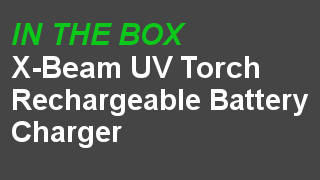 (261-wolf-eyes-xbeam-uv)
| | |
| --- | --- |
| SKU | 261-wolf-eyes-xbeam-uv |
| Brand | Wolf Eyes LED Torches |
| Shipping Width | 0.008m |
| Shipping Height | 0.011m |
| Shipping Length | 0.015m |
| Shipping Cubic | 0.000001m3 |
Be The First To Review This Product!
Help other wolfeyes.com.au users shop smarter by writing reviews for products you have purchased.
---
Others Also Bought
---
More From This Category