Lumens: 1,620 lumens
Throw: 150 metres
Length: 154 mm
Beam Type: Reflector – Spot surrounded by flood
The new 'ULTRA' versions of the Sniper II have arrived, we are very impressed! Giant throw and light output. Extremely high output LEDs have been out for a while, most manufacturers have met the challenge of managing the huge heat output of these LEDs by running for a couple of minutes, doing limited damage and wear, then dropping down in output. As most of our users are professionals or frequent users, this limited damage would have eventually added up. We now have an LED we can safely run at full output for the full rated time. No dropping down a level just when you need bright light!
The Sniper II 'Ultra' is a compact high intensity tactical torch with 4 levels including strobe and a huge 1,620 lumen output. The modest size belies the output available from this durable workhorse torch.
Light Output and Beam Pattern
The Sniper II 'Ultra' LED torch has a solid beam out to 150 metres provided by it's 1620 lumen LED. This is a 'spot surround by flood' beam courtesy of the reflector head. There are 3 levels of output on the Sniper II 'Ultra', high beam, medium and low. There is also a fast disorientating strobe.
Thermal Transfer Tube and Construction
The Sniper II 'Ultra' is built of aircraft aluminium and the Hard Anodized tactical black. In the centre of this alloy body is the brass Thermal Transfer Tube – whose job it is to drag away the damaging heat from the LED and radiate it from the body of the torch. LEDs are permanently damaged by being overheated so this keeps your LED with working within limits for a long service life.
Regulation
Your Sniper II 'Ultra' LED torch is regulated meaning it doesn't dim as the batteries flatten. It keeps at the full intensity of light due to the regulation unit, an electronic component which increases amperage as the volts reduce due to the battery flattening, always supplying the optimum amount of power to the LED.
Rechargeable Batteries
The Sniper II 'Ultra' uses a LRB168HDB (18650- High Discharge Battery) lithium ion protected batteriy. This is the same size as the rest of the Wolf Eyes LED torch and headlamp range, meaning you can share this batterry between your torches and headlamps. Your other Wolf Eyes batteries are not recommended to use in the Sniper II 'Ultra', they will work but not let the torch reach maximum output. Due to the lithium ion batteries good output only one is required, meaning we can keep the 25.4 mm (1") torch body size and modest length. These are protected batteries, meaning there is a computer protection chip built into the battery, which controls charging, discharging and most importantly over discharging. Being rechargeable means low running costs for you. Two disposable CR123A batteries will also power your Sniper II 'Ultra' LED torch.
Cold Weather
All Lithium Ion powered Wolf Eyes torches work well in cold weather, the photo of the Wolf Eyes Sniper 11 torch in the ice cube is proof of this, still working after being frozen into an ice cube.
Australian Approved Charger
The charger with your Wolf Eyes LED Torch is Australian Approved, meaning that you can feel safe using it and all your insurances will apply in a Workcover situation.
Upgradeable
The LED in your Sniper II Flashlight is removable so can be upgraded when suitable newer models of LED are released.
Waterproof
The Sniper II is waterproof to 1 metre.
Personalisation
The Wolf Eyes Sniper II 'Ultra' is available in quantity as a personalised torch and could have your battalion, division, unit, etc name engraved on the side.
Support
Your Wolf Eyes Torch is fully supported within Australia. We have spares here with solid stocks to support our Police and Military partners, we also have a 1300 911 007 phone number to provide over the phone assistance. After hours there is live answering on this line so you can be looked after during working hours.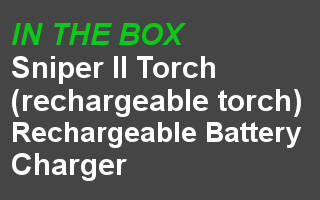 (257-wolf-eyes-sniper-ii-u)
| | |
| --- | --- |
| SKU | 257-wolf-eyes-sniper-ii-u |
| Brand | Wolf Eyes LED Torches |
| Shipping Weight | 0.0001kg |
| Shipping Width | 0.001m |
| Shipping Height | 0.001m |
| Shipping Length | 0.001m |
Be The First To Review This Product!
Help other wolfeyes.com.au users shop smarter by writing reviews for products you have purchased.
---
Others Also Bought
---
More From This Category