Wolf Eyes Pro Police is normally $188, now $149 till midnight June 30th or until stocks last.
Lumens: 1,210 Continuous Lumens
Weight with battery: 257 grams
Throw: 150 metres
Length: 154 mm
Beam Type: Reflector – Spot surrounded by flood
The Pro Police is the 'big brother' of the Sniper II Pro, with all of the same functions but it's larger (42mm v 35mm) head giving a wider beam but also more throw, out to 150 metres. The 6 levels of beam brightness (including two strobes) are there due to the amazing Procap. Of course the Pro Police is rechargeable so no worrying about battery cost as you go about your duties. This torch is a big favourite of officers involved in searches or rural areas where extra throw is welcome. We believe the Sniper II Pro and Pro Police are our equal best Police torch, the difference being the head size to give the required throw.
Light Output and Beam Pattern
Interesting subject, light output and advertising! We have considered building some of our torches with very high initial outputs, which then quickly drop within a minute or so down to a third or so of the initial output. This would be great for advertising but as most of our users are professional users, often using their torches in situations where safety is paramount, we don't. A brighter light dimming can both actually reduce how far you can see (though not by that much, lumens themselves are not as big a driver as design for distance) but also ability to see as your pupils adapt to the greater glare and then take to 10 to 15 minutes to adapt to lower glare. Also utilising the LEDs like this results in a shortened lifespan. So that is why our lumens are continous, not a shooting star!
The 1,210 lumen LED in the Pro Police LED rechargeable torch provides a good beam out to 150 metres. The reflector head provides a beam of spot surrounded by flood and a solid pool of light in the midrange. There are 6 levels of light output – high, medium, medium/low, low, slow emergency strobe and fast disorientating strobe. The Pro Police utilises a 45mm head to give a 150 metre throw. We believe the Sniper II Pro and Pro Police are our equal best Police torch, the difference being the head size to give the required throw.
The Pro Police is one of those rare torches where the LED and reflector seem perfectly matched. At Wolf Eyes we match each new LED version with a reflector , but sometimes there are limitations like the head size of the torch, etc. The Pro Police is one of those serendipitous moments when everything matches perfectly. The 1,210 lumen LED in its reflector head provides both wide flood and also long throw, all the way out to 150 metres.
The Pro Police flashlight provides six levels of output, four as high beam, medium, medium/low and low – then two strobes, a fast disorientating strobe and also a slow emergency strobe.
The Pro Police provides 1.5 hours of light on high with the standard battery and 45 hours hours on low.
Procap
The Procap gives the ability to preselect the level of output before you turn it on (or after). This means you can select low to read without blinding yourself with glare, or select disorientating strobe before approaching an offender. The Procap is a ring around the conventional tailswitch and is easily adjusted with one hand. The Procap is unique in that it doesn't turn off between levels, so you are never left in the dark, even for a split second, by your Wolf Eyes torch.
TTT and Construction
The Thermal Transfer Tube TTT is at the centre of the Pro Police torch, then it is surrounded by an aircraft aluminium body – together these two components are stronger than they would be individually. The Thermal Transfer Tube wicks the damaging heat away from the LED and uses the mass of the body as a heatsink to radiate the heat away – great for a long service life. The whole package is low temperature (- 200 C) Hard Anodized tactical black.
Regulation
Regulation is often required in the world, especially in a torch. Regulation means we regulate the amount of current reaching the LED to be the optimum, not too much (which will overheat the LED and permanently damage it) but also no too little such as when the voltage reduces as the battery flattens. To solve this problem we increase the amperage as the battery flattens, so your flashlight has a consistent brightness. Neat solution.
Rechargeable Batteries
The Pro Police torch uses the same battery as almost all other Wolf Eyes, the LRB168A (18650) lithium ion battery. This energy dense battery is rechargeable for low running and ongoing costs, while maintaining a slim profile to keep the torch as at handy standard 25.4mm body size.
Cold Weather
You can see the photo where the Wolf Eyes torch is frozen inside an ice cube for 4 days and still working – I don't think we have any operators we can do the same with!
Australian Approved Charger
The charger supplied with your Wolf Eyes Pro Police is Australian Approved, this means you are safer when using it and that all your insurances will apply.
Upgradeable
The Pro Police torch has a removable LED which is upgradeable when newer versions are released.
Waterproof
The Pro Police torch working in the glass of water says it all, but if you plan serious diving we would suggest something from our diving range.
Personalisation
If your team deserve the teams name on it's torch, we can do though for modest quantities. Great for morale and reducing theft or borrowing by other units.
Support
Support for the Wolf Eyes Pro Police is handled in Australia with a 1300 911 007 number as the first port of call for faultfinding. There is after hours live answering so you can log issues at any time for a call back during working hours. On top of this, due the large number of Police and Defence units using Wolf Eyes torches, we are obligated to carry deep reserves of spares. We want to keep your Wolf Eyes torch operational!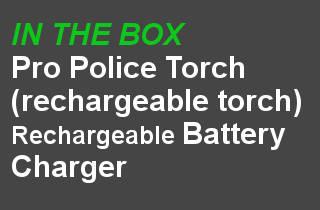 Pro Police beamshot and different modes
Different Levels of the Procap
This short video shows the different levels of the Procap and the ability to preselect a level before turning on - the video goes through high, medium, medium low, low, slow emergency strobe and the fast disorientating strobe. The torch is then turned off and low preselected. Then off again and the disorientating strobe is selected.
(223-wolf-eyes-pro-police)
| | |
| --- | --- |
| SKU | 223-wolf-eyes-pro-police |
| Brand | Wolf Eyes LED Torches |
| Shipping Weight | 1.0000kg |
Exceptional Quality

By:

Cornelia

on 31 August 2019

This torch I can recommend it is high quality with different lights . Love it !




(4)
impressed

I've had this torch for a year and can say nothing but good things about it, i use it for hunting and a general camping torch and can't fault it. The other night i was coming home from work on a country road when i heard a noise, i looked in my rear vision mirror and saw my Pro Police bouncing down the road, cursing myself i returned to pick it up, i found it sitting beside the road turned on with some serious gouges and marks but working perfectly,all i can say is you get what you pay for and i can't recommend Wolf Eyes products enough.




(5)
Police Torch

By:

Frank Manser

on 23 April 2019

Great product brought on sale. Very fast postage.




(5)
Quality and reliability

By:

Smitty

on 14 October 2018

As a Police officer, you want a reliable torch that can be used in all conditions. I finally splurged and bought one of these torches after reading the many good reviews. Yes there are cheaper brands out there but I came to find that every dollar is worth it when purchasing a good torch. I use this torch for everything... It can be dimmed right down so I can write in my notebook and it can light up a yard or field with the excellent throw and distance. I have dropped it more times than I'd care for and it has been in some very wet situations but a year and a half later of constant use and abuse, this torch is still going strong. After purchasing mine, my station purchased 8 and not one has failed on us yet...trust me they cop a flogging. I love the Pro Cap feature and I can select a brightness before I turn the torch on and blind everyone. Very easy to use, not too heavy or bulky, and battery time is great. I am very pleased with this torch and I would buy another one hands down without contemplating another brand.




(5)
What a great torch

By:

Brian Wiles

on 17 July 2018

I bought the Pro Police torch for a friend as a gift, then bought one for myself. An excellent torch at a great price.




(5)
Magnificent torch

By:

Miodrag

on 21 May 2018

An excellent product from wolfeyes




(5)
Wolf-Eyes Pro Police torch

By:

Jonothan Sims

on 25 April 2018

Terrific prompt service. Very trustworthy company. Fantastic torch. Pleased with personal note in box from Sharon. Will keep an eye on new releases and buy again.




(5)
Police Pro Torch

By:

Mike Kelly

on 21 November 2017

I already had one from 18months ago. I was impressed with that. Being a Maglite fan. A security bloke raved on about his Wolf Eyes...showed me the brightness & range... WOW!!! I had to get one right then. Then another a couple weeks ago. Even better than the first. Fantastic product! Very happy with Wolf Eyes torches. Highly recommend them. Mike Kelly (Night cleaning contractor.)




(5)
Pro police led torch

By:

Bradley

on 15 August 2017

Good sturdy torch. Bought with pen clip and is great at hanging on my LBV. The switch on the tail is very simple to use. No longer turning on my torch and wondering if it's going to melt their eyes. Just pick your setting before turning on. Nothing wrong so far with a week of nights shifts just past. Only issue was they had no traffic wand covers in stock.




(5)
Pro Police Torch

By:

Kirrah Codrington

on 1 March 2017

The Pro Police Torch is by far my favourite!! Awesome little back up torch when out spotlighting/hunting and handy size too! Owned one for 2 years and still going strong! All this time I have been hiding it from water/rain and just realised its water resistant! How great is that! That great that I even bought my partner one so he stops taking mine haha




(4)
Lit up my life

By:

Andrew

on 24 October 2016

This torch is pretty good, has a long throw can be very bright and the battery life is quite good, the weight of the torch is low due to the materials used which makes it better if you're planning on carrying it around all day. The only down point I can name is the overall length of the torch is a little large when it is on a belt, can be annoying getting in and out of cars but a minor issue overall.




(4)
An Excellent Torch

By:

Ali

on 11 October 2016

I bought this torch to carry with me when I was camping in New Zealand. an Excellent torch with long lasting battery. I bought an extra battery, charged them both and did not need to use the second battery during the 5 day camping trip. good illumination people who i was with were very impressed by it.




(5)
Proud Addition to EDC Arsenal

By:

Greggo

on 1 June 2016

My Pro Police LED Torch (SKU: 84) is a recent addition to my everyday carry (EDC) ensemble and does not disappoint with its scale-model POL-AIR like illumination on high beam. The twist-dial mode selector is infallible in operation and the optional yoke keeps it connected with my operating arm. Big nod to Wolf Eyes with this choice item from their impressive menu.




(5)
Pro Police LED Torch

By:

Anthony

on 6 May 2016

Torch purchased April 2016. BRILLIANT! This torch packs plenty of real punch. I always thought my old 350 lumen led torch [different brand] had a great beam on it and when I compared the two at night, seriously, the pro police torch destroyed it. The pro police torch certainly covers a lot of distance and also a wide range. The light source is second to none. The torch has a great weight. Not too heavy, but just enough that makes you realise the construction is solid. HIGHLY RECOMMENDED. by far the best torch I have ever owned. If you are a torch junkie, this is for you. One more thing. Delivery was super prompt. Within 24hours!!!




(5)
Exceptional torch and great customer service.

By:

Chris

on 14 March 2016

I recently purchased the Wolf Eyes Pro Police LED torch. I am very impressed with this product in every way. It is very sturdy and is clearly made of quality material. It has a nice weight to it, but is light enough for every day carry. It is a very bright torch, with no imperfections in the beam. It is much brighter than any other torches I own and has an impressive throw. I absolutely love the neat Procap to preselect the light mode - it is very simple and effective. I was originally concerned that with the larger head than the Sniper II Pro, that it would be large or bulky. However, I was pleasantly surprised with the size, balance and overall usefulness of the torch. I was also aware that it did not have a 'spot' mode to focus or narrow the beam, or red-light feature (which I didn't mind at all - I like the simplicity). Even on 'Low' mode, this torch is quite a reasonable brightness (comparable to other torches), and I find myself using it mostly on this mode. It is a very simple and effective torch, which met all the criteria for me. Not to mention the personal touch with a note in the package and great customer service with prompt delivery. Very happy with my purchase.




(5)
pro police torch

By:

Andrew Richardson

on 11 February 2016

Great torch, stronger pro cap is great, could do with battery percentage LCD lights, other than that cant fault it, I use it for full time security !!, Tuff bright torch.




(4)
Wolf Eyes Police used at Work & Home

By:

Ian M

on 4 January 2016

I have used this torch in Police Maritime Interdiction Ops & home security. I cant say enough how comforting it is on high power to see the beam reacing into dark areas of ships machinery spaces that other brand LED torches fail miserably at. The ability of the torch to project a concentrated beam whilst also providing a strong periphial light to pick up any possible side threat is sensational. Being able to reduce power to read charts/maps & take notes is great. The strobe function is very effective on agressive males to disorientate in daylight or darkness I believe this is also a great feature for home protection if confronted by an intruder. Battery life is remarkable for the power this torch punches out. I have purchased another 3 of these torches from Wolf Eyes for people close to me. Thanks Wolf Eyes




(5)
Excellent duty torch - operational Police

By:

Thin blue line

on 22 October 2015

Purchased this torch a couple of days back, and I have already used it in operational police work. The beam is powerful and the construction is strong. Was involved in a critical incident this morning involving a motor vehicle that was stolen, the beam was powerful to allow good view through closed Windows of the car that provided police with critical information about the property inside the car. I strongly recommend this torch for operational/ tactical work. The service is good comes well packaged with a handy lanyard. I purchased the torch ring clip which is handy to clip onto my west providing good reach when needed and specially when taking notes in the dark. The variable function to lower the beam strength is great when taking notes and not blinding yourself when taking notes. The only item that I may suggest is to improve is the pouch for the torch. That needs better construction to fit into webbing. The current pouch comes loose in use. The torch itself is excellent.




(4)
Great torch

By:

NATHAN WATSON

on 15 October 2015

I work in security and find this to be a great Torch the only thing I would like to see is the throw of the torch increased a bit further as I work around shopping centres and factories and some times need the extra throw. Or an attachment or selector for the increased distance.




(4)
pro police

By:

Mick on 28th sept 2015

on 28 September 2015

ordered on line in hand in 3 days just in time for 4x4 trip very impressed very good quality three mates are ordering one great torch great service




(5)
---
Others Also Bought
---
More From This Category