Lumens: 579 lumens white
Weight with battery: 284 grams
Throw: 150 metres with white, 120 metres with red.
Length: 170 mm
Beam Type: Aspheric – spot adjustable to flood
The X-Beam Red or X-Beam Green is quite a unique torch, not only does it have two separate LEDs in it, but it has a lever to move the LEDs into and out of the perfect optical position within the torch. This way you have a torch with exactly the LED you need in it, at the right time. The reason two LEDs are needed is because LEDs only produce light in a narrow wavelength (hence why they are so efficient on batteries), if you put a say Red filter over the White LED you would receive little Red out the front, as the White LED produces little in that wavelength. Filters work by holding back all but the desired wavelength, not by converting light to other wavelengths. This is the reason the X-Beam LED torch was developed, two LEDs give you good light in both wavelengths. A single say red LED torch (or white LED torch) really only allows good light in that wavelength.
There are three different torch models available – white/red, white/red with Procap or white/green. Red has traditionally been the colour used for foxes or similar, though many are now choosing green LED torches.
We are finding we have a number of clients who obtain the Red X-Beam torch for observing animals. We supply the red/white LED X-Beam torch to a number of zoos for both staff use and their night tours, we supply private individuals for observation and also wildlife photographers who use red LED for observation then quickly switch to the white LED to allow their long telephoto lenses to focus.
Light Output and Beam Pattern
The X-Beam torch gives a very wide spot out to about 150 metres on the white LED, which can be expanded even broader (with consequent shorter throw) by screwing the rotary head. The coloured (green or red) LEDs all throw approximately 100 metres, possibly a little more for those with a lot of experience.Most suggest that green LED torches throw a little further than red LED torches. Our eyes traditionally don't perceive shapes and contrast as well with a single colour such as these, the reason for the reduced distance. Of course the coloured LEDs don't take as much from your night vision.
Wavelengths
The red LED is 625nm The 625nm red wavelength has proven great for autofocus system on cameras, not dissimilar in wavelength to the existing red auto focus lights many cameras and flashes have, but far stronger.
Construction and Thermal Transfer Tube
The X-Beam torch is built around our brass Thermal Transfer Tube and the rest of the flashlight body covering this is made from 6061-T6 aircraft grade aluminium. The idea of the Thermal Transfer Tube is to do three things, one to strengthen the whole torch structure, with the whole being stronger than either component, two to provide good electrical conductivity and most importantly three, to drag damaging heat away from the LED and dissipate it through the mass of the torch body. LEDs can be permanently damaged by excessive heat and suffer reduced output for the rest of their life.
The torch head has a rotary adjustment so it can withstand heavy movement.
The torch body is made from 6061-T6 aircraft grade aluminium which is then low temperature (-20o C) Hard Anodized tactical black.
Dual Tailcap
The torch tailcap is the Wolf Eyes Dual Tailcap, which means you can use it like a regular tailcap or screw on the included tapeswitch for faster control of your flashlight. The Dual Tailcap also features a spring in it, combined with the spring at the front of the torch body, the two springs contain the battery which can move but electrical contact is maintained at all times.
Procap
The Procap gives the ability to preselect the level of output before you turn it on (or after). This means you can select low to read without blinding yourself with glare, or select disorientating strobe before approaching an offender. The Procap is a ring around the conventional tailswitch and is easily adjusted with one hand. The Procap is unique in that it doesn't turn off between levels, so you are never left in the dark, even for a split second, by your Wolf Eyes torch. Photographers often choose this cap as it allows you to tailor the amount of light to the job at hand.
Wildlife Photography and Wildlife Watching
The X-Beam Red is our best torch for wildlife watching and wildlife photography. The X-Beam has found favour with wildlife photographers as the 625nm red will provide enough light to allow their auto focus systems to operate on their long lenses without disturbing the fauna they are trying to photograph. Red has traditionally been used to observe animals as it doesn't disturb them, great for you as you can still see them without frightening them away. If you would like to use your X-Beam for this purpose we can supply it with a Procap tailcap (instead of the dual tailcap) at no extra charge. Just choose 'Red 625nm Procap (Wildlife Photography, Zoos)' in the colour section above. The X-Beam Red is also used by multiple zoos for their night time and overnight tours as it allows observation of the animals without disturbing them - with of course the white light instantly available for any emergencies.
Defence Use
If you work in one of the arms of the Defence Department and need Red light (you will know who you are), the X-Beam Red Pro may be the torch for you. The Procap allows you set the intensity of the light before turning the torch on (as well as after or while using), while the lever allows you to choose between red and white light. Or Red and Infra Red by special order. So if you are Airforce, Army or Navy the Wolf Eyes X-Beam Red torch may be right for you. If you are a sailor you may have even been given one.
Regulation
The X-Beam LED torch is regulated, meaning it doesn't dim as the battery flattens. Torches usually dim as the battery flattens, sometimes just a little and often a lot. This is because the battery reduces in voltage as it flattens. The solution to this regulation, this increases the amperage as the voltage is reduced, so the optimum power or current is always supplied to the torches LED.
Rechargeable Batteries
The X-Beam torch uses the well-known LRB168A lithium ion (18650) batteries which are protected for your safety. These are used in all Wolf Eyes Torches and Headlamps for total compatibility. They are energy dense, so only one is needed, enabling the friendly 25.4mm (1") torch body size to be used, so most mounts will fit. The batteries are also protected for your safety.
Cold Weather
All Lithium Ion powered Wolf Eyes torches work well in cold weather, the X-Beam flashlight being rated from -20o C to +60o C.
Australian Approved Charger
The charger with your Wolf Eyes LED Torch is Australian Approved, meaning that you can feel safe using it and all your insurances such as Workcover, OH&S, building, will apply.
Support
Your Wolf Eyes X-Beam torch is supported with a range of flashlight spares in Australia. There is also a 1300 911 007 number for questions or queries, this number also has live answering after hours so you enquiry can be logged and attended to in business hours.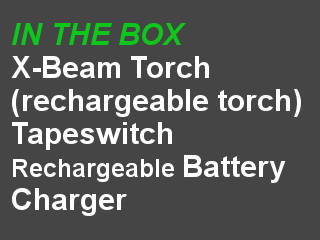 The X-Beam Dual-Tailcap model
Video of the beam of the X-Beam Red showing both red and white LEDs
Video of the X-Beam Green showing white and green LEDs
The X-Beam Photography model
(229-wolf-eyes-xbeam-red)
| | |
| --- | --- |
| SKU | 229-wolf-eyes-xbeam-red |
| Brand | Wolf Eyes LED Torches |
| Shipping Weight | 1.0000kg |
Torches

By:

Dale

on 1 January 2023

Purchased torches and covers for use in wildlife rescue situations. Great products. Highly recommend. Grandkids also want to borrow them for Roar and Snore at Taronga.




(5)
Damn good torch this

By:

Jason

on 21 April 2022

Ordered online and received it promptly. Awesome torch. Super bright. Far brighter than needed for most things, so the adjustable settings are perfect. I enjoy night walks around the local reserve and got the red led so I wouldn't bother the koalas and owls as much when I stop to look at them. It's damn brilliant. Highly recommend.




(5)
Perfect Spotlight for wildlife night photography

By:

Brett

on 21 September 2021

A super bright rugged torch for spotting wildlife at night. The red beam is wildlife friendly and the torch also has a white beam for general use. A quality product with well thought out controls. Highly recommended




(5)
Xbeam Red + Procap

By:

Jordan

on 16 October 2019

Most amazing hand torch I have ever owned, perfect for spotlighting wildlife - then red mode allows you to get close without disturbing them. I have used it for roos, possums, koalas, frogs, you name it! It's so much smaller than I thought it would be and the battery life is commendable. 10/10




(5)
Fantastic product

By:

Darren Diserens

on 5 June 2019

My main attraction to this torch was the fact that David Stowe had his version great endorsement from a fantastic photographer




(5)
x-beam owns

By:

Benjamin Boyd

on 4 June 2019

Very solid design, excellent for spotting natives on class walks in nature reserves




(5)
GREAT SPOTLIGHT

By:

Margie

on 6 February 2019

Fantastic service and delivery. The spotlight is perfect for my needs, wildlife surveys and amateur research to locate a variety of species including possums flying foxes, owls and micro bats. The red focus is good to use once a creature has been located.




(5)
Great spotlight

By:

Paul

on 23 November 2018

This is a great torch for wildlife spotlighting with plenty of power from both the white and red LEDs




(5)
XBeam Red LED is perfect for wildlife viewing

By:

Glenn Weston

on 16 October 2018

I bought this torch for multipurposes. First to find the wildlife, then second to protect it with the red bulb. I've found the torch outstanding so far and would recommend it to any wildlife enthusiast given its massive depth and consistency. So far its brought me a lot of joy in the bush for photography purposes.




(5)
Just what I was looking for!

By:

Jimmy Lamb

on 13 May 2018

I had seen this product highly recommended on a mammal watching website, and had been looking for something to view animals at night without disturbing them under a white light, which was why I chose the red LED option. I have since used this product with great success. The torch is light and compact and therefore easy to use in an outdoor setting. Most importantly both the red and white light options are pleasingly powerful and easy to alternate between. The battery supplied with the product has an excellent life and the extra battery will certainly come in handy with long excursions into the bush. The icing on the cake, was that there is great customer service with this product that can sadly be sometimes lacking with purchases over the internet. Great work guys I'm delighted with your product and will be certainly using your website as my first port of call when purchasing further mammal watching gear. Cheers Jimmy Lamb




(5)
XBeam Review

By:

Matt Browne

on 10 April 2018

Fanatasic Torch, bright, effective and Amazing turnaround and service from the team at Wolf Eyes




(5)
Awesome X beam

By:

Paul

on 18 November 2017

This X beam torch more than lived up to its claim as I have used it now 6 months and have harvested game from rabbits to pigs. The unit is very robust and the claimed lighting up distance is spot on as anything out to 175m will take a dirt nap. The battery life is good and the pro cap works excellent when used. Overall I could not rate this product any higher, your hunting will never be the same again.




(5)
adaptation

By:

lance wynack

on 21 August 2017

Hi your product is great ,I would to.see the charger adaption for car .worked great in rain as well




(5)
XBeam Red Led torch with procap.

By:

Ian Davies

on 15 July 2017

I have needed a good light source for a while now, as I do a lot of owl surveys down here in the Otways. The XBeam is one of the best torches I have used! There are many features that make this item great to use. For starters, the torch is brighter than my car spotlight, and has a broader beam, which is great for searching amongst the higher foliage for the target species. It also throws a long beam. As it is so good, I am not limited to the area around the car (as with my car spotlight) and can search a wider area with a good light. The battery has not needed recharging yet, and I am up to my 4th night out with it. (try doing that with other rechargable torches I have been using!) I have bought a backup battery for $35.00, and I havn`t had to change over to it yet, as the performance of the unit has not changed significantly.The red function on the torch is really useful, and does not seem to bother the Owls when I have this function directly on them. The change from red to white is via a simple to use toggle switch which can be easily operated with your thumb on top of the unit.Time will tell on this setup, but at the moment I have no problems with it, and don`t expect to. It comes with a handy lanyard, which I use on the torch so I don`t accidentally drop it, and can locate it in the car easily. The torch is a nice size in the hand, and feels well made. Obviously it is easy to change direction without other leads to a power source getting in the way.It does not get hot with constant use, so you won`t burn anything if you accidentally leave it on your car seat ( experience speaking!) There are other dimming and flashing functions that are easy to use by rotating the pro cap, which I must admit that I do not use much. Perhaps as time goes by the dimming function may be handy. At $200.00 they are not cheap, and I certainly have not drop tested it (!) but it seems very robust. The package also includes a battery charger, which I have not needed to use yet, as the 2 batteries came fully charged! I have not tested other brands of LED lights, but in my case I didnt need to, as the XBeam satisfies my requirements entirely. For my use I would not hesitate to recommend the XBeam. I dont like to give 5 stars, as I havn`t used it for long enough yet. Maybe I will update this review in 6 months! Well done Wolf Eyes!




(4)
X Beam with Red LED & ProCap

By:

Alexander Dudley

on 3 May 2017

I've been working on fauna surveys and with environmental education for over 30 years and I have to say that this is a perfect torch for both of these occupations. Working with the red LED took a bit of getting used to but I have found the light disturbs animals a lot less, and the pure red LED beam has a greater throw than the traditional solution of red cellophane. The variable light output is excellent for close-range work scanning the ground for small animals, and the more powerful white beam is great for identifying animals in tree-tops once the eyeshine has been detected. The battery has a long life and having a spare means I can work all night without any concerns of being left in the dark. This is the best torch I have ever owned (and I have owned a lot of torches).




(5)
A great torch for my purpose

By:

Jeff Cole

on 25 November 2016

I bought the Wolf Eyes on recommendations from a few guides at the Alice Springs Desert Park. I bought the X-Beam + Procap red/white for use during nocturnal tours at the park and after only one tour I am glad I did. The broad red beam is strong enough to spot the animals among the Mulga shrubs and the ability to focus the beam into a tight spot allows them to be seen in greater detail. I was concerned that the light might be too bright for use in the nocturnal house but the Procap means I can dial in whatever level of light I need. Being able to switch to white light makes the torch very versitile as it can also be used to light the path or in case of emergencies where a red light would not be sufficient. One guide also uses the white light to give star talks. I haven't tried to use the torch for photography yet but like the brochure says 'Best for [wildlife photography and] zoos'. I would recommend you consider getting the holster as the torch seems a little heavy to hang around the neck with the supplied lanyard.




(5)
X Beam for wildlife

By:

Chris Charles

on 17 November 2016

Sufficient red light for focus finding up to useful range of lens, without discomfiting bird causing it to turn away. Good balance between weight & facility.




(5)
Night Photography

By:

Mick

on 24 August 2016

Compact yet powerful for night Photography




(5)
Spotting bilbies...

By:

Greg Sully

on 18 February 2016

When I witnessed my work colleague with this torch on one of our nights tours, I was blown away by the performance and rushed home to order one. And now my mother has one... what more can I say.




(5)
Worth it's weight in gold

By:

Paul Green

on 1 September 2015

For anyone wanting to shoot at night without disturbing your quarry in this instance feral pigs and foxes. This amazing light did exactly what the description entailed a good 150m throw easy with a clear view through my scope out to that distance as several of the above ferals were accounted for by the green Xbeam. I paired it with the universal scope clamp and it couldn't be any easier, unscrew loosen insert and tighten that's it you couldn't get it any easier. The battery life on the torch was and is still going after 4 nights of hunting as I teamed it with the great dingo headlamp which also lasted on 1 battery without fading, wolf eyes don't lie when it comes to the quality of this light it was so good I'm getting another one so I can have a green light on the rifle while using another to scan as I was able to get within 70 metres of ferals without them even knowing I was there. Thanks again Wolfeyes another amazing top quality product.




(5)
---
Others Also Bought
---
More From This Category