Wolf Eyes Ranger IR 850nm is normally $199, now $169 till midnight June 30th or until stocks last.
Length: 190 mm
Beam Type: Aspheric – spot adjustable to flood
The Ranger 56 IR (Infra Red) LED torch puts out invisible 'black' light in the 850nm range. This is the Infra Red version of our Ranger 56 LED torch, this version is designed for those who own Night Vision gear such as scopes, binoculars, goggles or spotting scopes. Due to this torch's large head and good distance between IR LED and aspheric lens, the Ranger 56 IR LED torch makes a tremendous IR (Infra Red) illuminator, well suited to those who want to substantially increase the range and clarity of their existing Night Vision scope, binoculars or scope. Many clients have seen a 60% to 100% improvement in range compared to their existing IR Infra Red illuminator.
Weight with battery is 315 grams.
TTT and Construction
Like all of the Wolf Eyes LED Hunting Torches the Ranger 56 IR torch is built around the brass TTT – Thermal Transfer Tube. The Thermal Transfer Tube has three benefits, it strengthens the total body structure, it enhances electrical conductivity and most importantly drags damaging heat away from the torch's LED. If overheated LEDs suffer permanently reduced output for the rest of the life of the torch.
The rest of the torch body is made from aircraft grade aluminium which is then low temperature (-20o C) Hard Anodized tactical black.

Procap
The Procap is a conventional tailswitch in the centre but has a ring around the outside to change levels. This can be used to change the level of output of the torch when it is on or before it is turned on. It is worth noting the magnets in the Procap are not compatable with the magnetic mount, we suggest installing the standard tailcap if using that mount.
Regulation
The Ranger 56 IR LED Hunting Torch is regulated, meaning it doesn't dim as the battery flattens. Torches usually dim as the battery flattens, sometimes just a little and often a lot. This is because the battery reduces in voltage as it flattens. The solution to this regulation, this increases the amperage as the voltage is reduced, so the optimum power or current is always supplied to the LED. This gives you the confidence to use the torch over more than one night, not having to worry you may have reduced output which is hard to check on an IR illuminator.
Adjustable Focus
The Ranger 56 IR LED flashlight has adjustable focus from spot to flood. This adjustable focus is acheived by screwing the head (rather than push/pull) so the torch is more resistant to recoil on heavy calibres if mounted on a firearm.
Rechargeable Batteries
The Wolf Eyes LRB168P lithium ion battery (18650) supplied with the Ranger 56 IR is also used in all our other hunting torches and headlamps, giving you interchangeability. This is both an energy dense battery (meaning you only need one and so can keep the 25.4mm – 1" -standard firearm body size) and also protected for your safety. Being rechargeable means low running costs.
Cold Weather
All Lithium Ion powered Wolf Eyes LED torches work well in cold weather, the Ranger 56 IR Infra Red LED hunting flashlight being rated from -20o C to +60o C.
Australian Approved Charger
The Ranger 56 IR torch features USB internal charging, meaning you can recharge the torch from any USB point, in your car, office, powerbank, etc. The charger with your Wolf Eyes LED Torch is Australian Approved, meaning that you can feel safe using it and all your insurances will apply.
Support
Your Wolf Eyes Torch is fully supported within Australia. We have spares here with solid stocks to support our Police and Military partners, we also have a 1300 911 007 phone number to provide over the phone assistance. After hours there is live answering on this line so you can be looked after during working hours.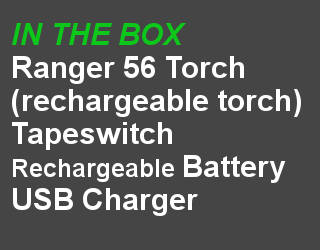 (273-wolf-eyes-ranger-ir)
| | |
| --- | --- |
| SKU | 273-wolf-eyes-ranger-ir |
| Brand | Wolf Eyes LED Torches |
| Shipping Weight | 0.0030kg |
| Shipping Width | 0.020m |
| Shipping Height | 0.050m |
| Shipping Length | 0.020m |
| Shipping Cubic | 0.000020000m3 |
Ranger 56 IR torch

By:

Jim C.

on 20 September 2019

This torch gives greater range than stock IR illuminators that come with the NV sights I have. It's not much heavier than the stock lights and mounts easily. The choice of three pre-set levels is great as one doesn't need full power for a fox that is coming to a bait at 60-80 yards out. As for the red glow, I'm sure that most animals around humans have become conditioned to the sight of red tail lights on cars and, if the shooter is quiet and still and not waving the rifle and light around, it shouldn't be a problem. I use a simple trail camera that gives a red flash around bait sights and foxes are not bothered by it. As for the strobe settings on the light, I cannot figure out their purpose at all. The instructions are poorly presented and take a bit of study. Certain issues, e.g. which end of the battery goes in first, are not clearly stated. The plug-in mains adaptor worked on some mains power sockets but not all, but the light charged quickly off a computer USB. Light is worth 5 stars; presentation of information - 3.




(4)
Excellent

By:

Jason Blaxland

on 29 March 2018

I own lots of torches from Wolf-Eyes and find their quality and service to be excellent. This torche I purchased to increase the range on my night vision,which it does very well. However just a note for those who are purchasing it thinking it won't have that red glow we all hate so much, well it does, a human eye can see it at well over 100m when focused. Otherwise,I highly recommend.




(5)
---
Others Also Bought
---
More From This Category