The Wolf Eyes Dingo Rechargeable Headlamp with two lenses, no lens mode and including battery and charger. Uniquely this LED rechargeable headlamp comes with two different lenses, utilises Wolf Eyes rechargeable batteries and is fully controllable from the front. This version includes the battery and charger, the same headlamp is available without battery and charger here - Dingo LED Headlamp.
The Dingo LED Rechargeable Headlamp is supplied with two different lenses to give you three choices of beams from your Dingo headlamp. There is a long distance tele lens perfect for distant viewing, it provides a spot to highlight wild dogs or foxes into the distance. This lens is adjustable by sliding from spot to a flood from 11 degrees to 50 degrees. Also in the kit is a wide angle lens, this produces a very broad spot out to shorter distances, say 50 metres, perfect for someone tasked with supervising a storage yard, emergency services or for chasing bunnies. Again this lens can also be adjusted by sliding, from 50 degrees to 76 degrees. Due to an innovative glass cover over the LED which makes it splashproof, the Dingo rechargeable headlamp can also be used in "No Lens" mode. This provides a very, very even light over about 160 degrees with no spot. On high beam this is like a fluoro out to about 5 metres, on the different levels perfect for close work or tasks like eating, medical emergencies, reading, etc. A fabulous mode for those who do close work or use their LED headlamp near or facing others.
All the controls for the headlamp are on the front of the Dingo, for easy access and positive control. There are 4 levels (High, Medium, MediumLow, Low) and strobe, all easily accessed by twisting the front bezel. The bezel can also be slid forward and back to control focus of the two lenses. The headlamp bezel can also be tilted easily by the user. Every controls is in front for safety and more control by the user of the headlamp. Most people are more familiar with using their hands in front of them rather than behind.
The Dingo LED Rechargeable Headlamp utilises the very light and powerful Wolf Eyes LRB168A lithium ion rechargeable battery ( it can also use 2 x CR123 non rechargeable batteries). This is the same battery used in almost all other Wolf Eyes LED torches or LED headlamps. As with all Wolf Eyes products this headlamp is regulated, so the light doesn't fade when in use. This rechargeable headlamp will be able to use your existing batteries from almost all Wolf Eyes flashlights, or vica versa. Due to the power of the battery, only one is required, making for a lighter and more manoeuvrable battery pack. Operating voltage 2.7V to 6V.
The Wolf Eyes rechargeable battery provides 150 minutes of runtime on High, 295 minutes on Medium, 17 hours on Medium Low and 136 hours on Low. Being a lithium ion rechargeable battery it also works in sub zero conditions.
The front bezel is constructed of aircraft grade aluminium with cooling fins built in so you don't overheat your LED (if an LED is overheated it has a permanently reduced output), aslo combined with the insulated pad keeps heat from being transferred to your head. The Dingo headtorch utilises a 800 lumen LED with 500 lumens out the front. There is a large control knob on the base of the bezel with positive and broad clicks built in at each level, suitable to be used with gloved hands. You can also slide this bezel forward to adjust the flood and spot of either of the two supplied lenses. This bezel is attached by an adjustable bracket to an insulated pad, which connects the adjustable, elasticised headband and top strap. At the rear, to keep things evenly balanced, is the very light single battery holder. Being only a single battery means the battery pack doesn't bang on your head (especially when running or moving fast) like some other headlamps.
The Dingo, the LED Rechargeable Headlamp for all seasons, the long distance lens, the medium distance for bunnies or yard work and no lens mode for tying fishing hooks on or close work.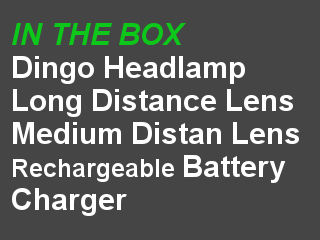 (312-wolf-eyes-dingo-head)
| | |
| --- | --- |
| SKU | 312-wolf-eyes-dingo-head |
| Brand | Rechargeable Headlamps Wolf Eyes |
| Shipping Weight | 1.0000kg |
Dingo headtorch

By:

Glen

on 10 December 2020

Wolfeyes would have to have some of the best torches on the market. I have a ledlenzer headtorch and cant fault it, but the dingo is just that much better. A friend gave me a hawke 2 a few years ago and the battery is still as good as it was then. Delivery is next to none. Cheers




(5)
Awesome

By:

David Richie

on 2 September 2020

Just Received the Dingo LED Rechargeable Headlamp, I can't believe that I didn't get on of these ages ago I have wasted so much money buying cheap STUFF. This headlamp is everything it says it is and so much more, I highly recommend Wolf Eyes to anyone.




(5)
Dingo headlamp

By:

susan cluning

on 17 May 2019

excellent head piece does not wobbly like other head lights I have tried very happy with purchase




(5)
... always wanted a HeadTorch

... and now I got one and like it, not to heavy, fantastic light and that with options, have't used a great deal as yet, just down the garden and taking the dog for walks and of course the bush camping cooking. Wife used it in the garden on her slug hunts, she said a bit heavy for her and pressure around the head, may need individual setting up, fine on my head though.




(5)
Bright

By:

Trevor Clement

on 31 July 2018

Has to be the brightest headtorch i've ever used....in fact i managed to keep my left eye but i did go blind in my other eyes.




(5)
Dingo

By:

Lachlan

on 1 July 2018

Paid the extra express postage, well worth 8 bucks they dispatched that day. Nice solid light, I work in the coal mines so it will get knocked around, so far so good.




(4)
Dingo head lamp

By:

Terry Rapetti

on 10 April 2018

Great light it's a little bulky to use at work but a very excellent light for the outdoors




(4)
Headlamps

By:

Christine Sands

on 31 December 2017

My son was over the moon with his Wolfeyes Headlamp.




(5)
quality fantastic

By:

rik

on 22 November 2017

i purchased my first wolfeye torch years ago and resently purchased the dingo head lamp and am really impressed with the quality i highly recommend this product don't waste time on cheap copies, will be back in the future thanks wolf eyes for a great product




(5)
Don't leave home without one

By:

Paul

on 18 November 2017

I got this headlamp to use for walking around at night when hunting and scouting and also for riding my bike, the vision you get with it is nothing short of amazing. Wolfeyes products are top notch and I wouldn't trust anything else, quality, price and customer service, Top Notch.




(5)
You get what you pay for

By:

Gene

on 7 November 2017

Without a doubt the best headlamp I've ever owned. Battery life is superb, and the people at wolf eyes are very helpful, friendly and easy to deal with. Highly recommend.




(5)
Incredible !

By:

daniel

on 15 August 2017

Incredibly Powerful, Incredibly 'Hands-Free!', Incredibly well designed, my son says he feels like a 'super-hero' when he wears it as the beam is just so powerful




(5)
Dingo recharge headlamp

By:

Darren

on 12 May 2017

It's great went out the other night shot some rabbits with it a lot head torches glare thew the scope this one don't given it 5stars ratings you wood have to go along way too find a better one




(5)
Dingo head lamp

By:

Jason Williams

on 17 April 2017

Take it out fishing a great light. It's easy to use




(5)
Dingo LED Rechargeable Headlamp

By:

Julia Banyer

on 14 March 2017

Very quick service, and it has been used with much effect and no loss of temper twice so far. This is so handy for when you need both hands to fix something inthe house.




(5)
Love it

By:

ben

on 21 February 2017

love this product !! worth every cent great quality construction and dam its bright !!




(5)
Excellent Torch

By:

Chuck

on 8 January 2017

I have used three dingos for a few years now. Two are still going strong but one started flickering after a year. I keep one for hunting and one for the house. I don't even bother with my sniper 260 anymore as the dingo does everything hands free. Once I was camping and my mates lantern stopped working so I took the wolfeyes lens off and hung it off the tree to get a complete flood. On the lower power that kept our camp lit at night for two days. All headlamps these days should be using the LiOn batteries like the dingo as they last a long time and are not affected by the cold. The elastic has also kept its tension after so many years so it really is a quality product.




(5)
Enlightened

By:

Rhys S

on 15 September 2016

I've always gone the way of a cheaper headlamp and have forever been a little hesitant when it came to going out and investing in a more well known brand. But after a fair few tries of different lamps (too many I think), I finally decided to trade up. And I'm so glad I did. I ended up going with the Dingo and so far it just can't do me wrong. One thing I thought I would never use was the changeable angle lenses, but so far I've made great use of the feature. With them being quick & easy to change I find myself fitting the appropriate lens for the task at hand and getting to work. So overall I'm really pleased. Easy to use, adjustments are quick and the mount is very comfortable. Haven't yet had the need to run it all night & kill the battery in one go, so I can't really comment too much on the life of charge. I'll probably look for a nice little hand held in the near future to accompany the head lamp as a simple backup. Also, ordered it in the morning & got it early that arvo.....I'm within the Sydney region where they ship from, but was still really pleased to get it in such a short period of time.




(5)
Charging accessories

By:

Jason Bonanno

on 25 June 2016

The product is very impressive I regards to comfort and brightness. I'm not sure if it's possible but there was a usb charging adaptor for the car so I can charge the battery while driving around will make the charging process a lot easier. Overall very impressed




(5)
Good product

Works well. Great battery life, and fantastic light output. My only drawback is the front plate. I use the product on a mining hard hat, which is regularly on and off. The front plate (with light attached) has a tendency to slip/ride up my hard hat. The result is me persistently pushing it back down. It's a minor teething issue which I think will be resolved with double sided tape. Just have to make it work for me.




(4)
---
Others Also Bought
---
More From This Category