The Wolf Eyes Dingo Headlamp has arrived! Uniquely this headlamp comes with two different lens, utilises Wolf Eyes rechargeable batteries and is fully controllable from the front. This version is without the battery and charger, the same headlamp is available with battery and charger here - Dingo Headlamp.
The Dingo headlamp is supplied with two different lenses to give you three choices of beams from your Dingo headlamp. There is a long distance tele lens perfect for hunting, it provides a spot to highlight wild dogs or foxes into the distance. This lens is adjustable by sliding from spot to a flood from 11o to 50o. Also in the kit is a wide angle lens, this produces a very broad spot out to shorter distances, say 50 metres, perfect for someone tasked with supervising a storage yard, emergency services or for chasing bunnies. Again this lens can also be adjusted by sliding, from 50o to 76o. Due to an innovative glass cover over the LED which makes it splashproof, the Dingo headlamp can also be used in No Lens mode at. This provides a very, very even light over about 160o with no spot. On high beam this is like daylight out to about 5 metres, on the different levels perfect for close work or tasks like eating, medical emergencies, reading, etc. A fabulous mode for those who do close work.
All the controls for the headlamp are on the front of the Dingo, for easy use, straightforward access and positive control. There are 4 levels (High, Medium, MediumLow, Low) and strobe, all easily accessed by twisting the front bezel. The bezel can also be slid forward and back to control focus of the two lenses. The headlamp bezel can also be tilted easily by the user. Every controls is in front for safety and more control by the user.
The Dingo Headlamp utilises the very light and powerful Wolf Eyes LRB168A rechargable battery ( it can also use 2 x CR123 non rechargeable batteries ). As with all Wolf Eyes products this headlamp is regulated, so the light doesn't fade when in use. This headlamp will be able to use your existing batteries from almost all Wolf Eyes flashlights, or vica versa. Due to the power of the battery, only one is required, making for a lighter and more manueverable battery pack. Operating voltage 2.7V to 6V.
The Wolf Eyes rechargeable battery provides 150 minutes of runtime on High, 295 minutes on Medium, 17 hours on Medium Low and 136 hours on Low.
The front bezel is constructed of aircraft grade aluminium with cooling fins built in so you don't overheat your LED (if an LED is overheated it has a permanently reduced output). The Dingo headtorch utilises a 800 lumen LED with 500 lumens out the front. There is a large control knob at the rear with positive and broad clicks built in at each level, suitable to be used with gloved hands. You can also slide this bezel forward to adjust the flood and spot of either of the two supplied lenses. This bezel is attached by an adjustable bracket to an insulated pad, which connects the adjustable, elasticised headband and top strap. At the rear, to keep things evenly balanced, is the very light single battery holder.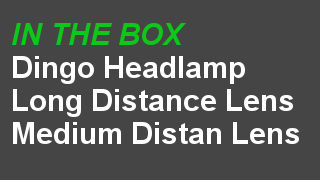 Reviews
Australian Sh00ter Gvns N Game
(309-wolf-eyes-dingo-head)
| | |
| --- | --- |
| SKU | 309-wolf-eyes-dingo-head |
| Brand | Rechargeable Headlamps Wolf Eyes |
| Shipping Weight | 1.0000kg |
Great Headlamp

By:

Rohan Watson

on 6 August 2018

Since receiving the headlamp i have used it almost every night to check on animals around the farm and I am very impressed by how well it sits on my head and its power. I recommend this head lamp for anyone after a good quality unit that will last, It is even better with the high capacity battery.




(5)
Dingo led headlamp

By:

Archie

on 24 April 2018

Dingo led headlamp




(5)
products/service 1st class

By:

darren davies

on 31 March 2018

have bought a pro-police torch, some extras, like barrel mounts & spare batteries, a 12 volt car charger & now a dingo head torch. all the gear exceeds what wolf-eyes claims them to be capable of. the service is spot-on & delivery is quick. this gear might seem a bit exxy when you compare to other lights, but hey, it's bloody good




(5)
Dingo LED Headlamps

By:

Dac Lam

on 28 September 2016

This is the second pair I have purchased - one for my son after I bought the original set a year ago. The unit is a little heavy compared to my LED LENSER but quality wise it is so much better. The parts are mainly metal unlike some that are plastic. I use my headlamp mainly for hunting. With the supplied lenses you can spot game hundreds of meters away. Back at camp I remove the lenses and it really makes it look like day time.




(5)
Wishlist

By:

Rob Astell

on 10 February 2016

These are the best headset lights I have found. I own 4 but my wish is to see a on/ off switch at the end of the battery housing, accidently on in a backpack is a no no...




(5)
Dingo Headlamp

The ease of ordering a product from wolf eyes and the customer service and follow up email to notify postage was excellent . Next day postage and well packed the headlamp arrived 2 days after being orderd . Being a hunter and fox shooter I need a headlamp that is robust , easy to use , has offers good light output , with a good beam . The dingo offers all of these .One handed operation to turn the light off and on , focus and simple twist light mode settings is important when hunting using gloves or on the move / riding the quad . Good wide head band with a lot of adjustment ,solid , well made light , made from a lot of aluminium and very little plastic , Its a quality headlight that I would recommend to anybody who is looking for a robust headlight that will last for years .




(5)
---
Others Also Bought
---
More From This Category