This is the RED LED version of our Dingo rechargeable LED headlamp. It comes with a RED LED only, if you are after a white Dingo headlamp click here - white Dingo headlamp.
This RED version of the Dingo LED headlamp is usually chosen by those who work near animals, zoo workers, academics, wildlife photographers or vermin control as the RED LED light upsets the animals considerably less than white light. It is also great if you don't want to lose your own night vision!
The Wolf Eyes Dingo Rechargeable Headlamp comes with two different lenses, utilises Wolf Eyes rechargeable batteries (so you can share batteries with all your other Wolf Eyes torches and headlamps) and is fully controllable from the front. This version includes the battery and charger.
The Red Dingo LED Rechargeable Headlamp is supplied with two different lenses to give you three choices of beams from your Dingo headlamp. There is a long distance tele lens perfect for hunting, it provides a spot to highlight wild dogs or foxes into the distance. This lens is adjustable by sliding from spot to a flood from 11 degrees to 50 degrees. Also in the kit is a wide angle lens, this produces a very broad spot out to shorter distances, say 40 metres, perfect for someone tasked with supervising a storage yard, emergency services or for chasing bunnies. Again this lens can also be adjusted by sliding, from 50 degrees to 76 degrees. Due to an innovative glass cover over the LED which makes it splashproof, the Dingo rechargeable headlamp can also be used in No Lens mode at. This provides a very, very even light over about 160 degrees with no spot. If you work close to others, have to walk around a medical facility or similar without disturbing others, the no lens mode with red is just fantastic.
All the controls for the headlamp are on the front of the Dingo, for easy access and positive control. There are 4 levels (High, Medium, MediumLow, Low) and strobe, all easily accessed by twisting the front bezel. The bezel can also be slid forward and back to control focus of the two lenses. The headlamp bezel can also be tilted easily by the user. Every controls is in front for safety and more control by the user of the headlamp.
The Dingo LED Rechargeable Headlamp utilises the very light and powerful Wolf Eyes LRB168P lithium ion rechargeable battery ( it can also use 2 x CR123 non rechargeable batteries). This is the same battery used in almost all other Wolf Eyes torches or headlamps. As with all Wolf Eyes products this headlamp is regulated, so the light doesn't fade when in use. This rechargeable headlamp will be able to use your existing batteries from almost all Wolf Eyes flashlights, or vica versa. Due to the power of the battery, only one is required, making for a lighter and more manoeuvrable battery pack. Operating voltage 2.7V to 6V.
The Wolf Eyes rechargeable battery provides 150 minutes of runtime on High, 295 minutes on Medium, 17 hours on Medium Low and 136 hours on Low. Being a lithium ion rechargeable battery it also works in sub zero conditions.
The front bezel is constructed of aircraft grade aluminium with cooling fins built in so you don't overheat your LED (if an LED is overheated it has a permanently reduced output). There is a large control knob at the rear of the front bezel with positive and broad clicks built in at each level, suitable to be used with gloved hands. You can also slide this bezel forward to adjust the flood and spot of either of the two supplied lenses. This bezel is attached by an adjustable bracket to an insulated pad, which connects the adjustable, elasticised headband and top strap. At the rear, to keep things evenly balanced, is the very light single battery holder. Being only a single battery means the battery pack doesn't bang on your head like some other headlamps.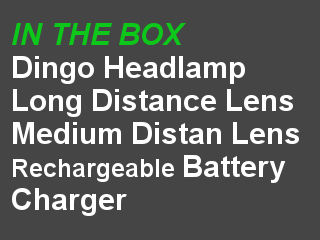 (320-REDDingo-led-headlamp)
| | |
| --- | --- |
| SKU | 320-REDDingo-led-headlamp |
| Brand | Rechargeable Headlamps Wolf Eyes |
| Shipping Weight | 0.0010kg |
| Shipping Width | 0.001m |
| Shipping Height | 0.001m |
| Shipping Length | 0.001m |
Dingo Red headlamp

By:

Ryan White

on 20 June 2018

Great light for foxes doesn't seem to spook them like the white lights with a good range for picking up their eyes. Not a good light for camp use etc though.If you are after a dedicated walking them up light I think it's great.




(4)
---
Others Also Bought
---
More From This Category