Do you need a long throwing headlamp in a light package? This is probably one of the lightest rechargeable headlamps available with throw. The Wolf Eyes Lunar LED Rechargeable Headlamp is a lightweight LED rechargeable headlamp, with a huge 180 metre throw, adjustable to full flood, well suited to active pursuits like hunting or running, also women would appreciate how light weight the Lunar headlamp is when worn. The single lens in front of the LED is adjustable from spot to flood, by simply twisting. This is a tele photo lens and gives a good spot for those who like hunting or wanting to see distance, it then has a rotary adjustment out to a medium flood. All the controls are on the front for ease of use. The front of the bezel (head) is about 34mm in diameter so a handy compact headlamp or headtorch.
A little lighter and smaller than the Dingo rechargeable headlamp but still with a decent throw. This is due to using just one Wolf Eyes rechargeable lithium ion battery (included) which is mounted at the rear to balance the LED headlamp at the front. The Wolf Eyes rechargeable lithium ion battery is quite light so the whole package remains light. As the battery is held between two springs within the battery compartment to eliminate any loss of contact and the fact the headlamp has a headband with strap over the top of the head, this headlamp would suit someone who is very active, such as a runner. The light weight of the headlamp means it suits women or men equally, whilst also being an advantage for very active headlamp users. By only having a single battery on the back of the headlamp you eliminate the problem of a heavy battery pack banging on your head, which sometimes occurs with headlamps which require 4 batteries in a pack.
The Lunar LED rechargeable headlamp is the step in between single battery headlamps with modest 10 metre outputs, being just a little heavier, but offering the output and long distance throw of the much larger headlamps which need larger battery packs. This extra throw or distance makes it well suited to those who use an LED headlamp when moving quickly, such as cyclists or fast runners. The sort of people who can outrun the limited light of traditional single battery LED headlamps. Or spend their evening chasing animals around. We didn't view the Lunar as a professional headlamps but we have been surprised by how many professional LED headlamp users are buying the Lunar. They are seeing it as a quality step between a very low cost headlamp and a prper professional headlamp costing $500 to $1,500 dollars. Not quite disposable, but not a long way from it at this price for a professional user who hammers it every day.
The front bezel is constructed of aircraft aluminium and houses a 450 lumen LED which gets 366 lumens out the front. The bezel/head is full adjustable on the foam backed pad which sits on your head. For convenience all controls for the headlamp are on the front which means you can adjust the headlamp head for spot or flood, you can also turn the headlamp off or on to one of it's four levels or strobe. This LED rechargeable headtorch lasts just under 2 hours on full (110 mins), 3.5 hours on medium, 12 hours on medium/low and 86 hours on low. The Lunar LED Rechargeable Headlamp uses the Wolf Eyes LRB168A Battery (the same as used in your Wolf Eyes torch) and this lithium ion rechargable battery and charger are supplied in the kit.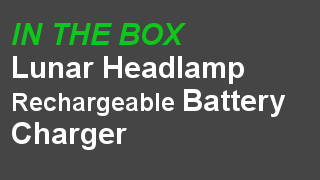 (305-wolf-eyes-lunar-head)
| | |
| --- | --- |
| SKU | 305-wolf-eyes-lunar-head |
| Brand | Rechargeable Headlamps Wolf Eyes |
| Shipping Weight | 1.0000kg |
Lunar head torch

Excellent product, would highly recommend.




(5)
Wolfeyes

By:

Clintan

on 20 November 2018

Fantastic. One for all the family




(5)
Good value

By:

Dario

on 2 October 2017

I bought this lamp in January and I didn't have many chance of using it, but I picked it up the other day to go fishing and the battery was still full after few months since the last charge. The torch feels light but strong with aluminum body, great light throw on spot light. If I was in the market for another torch I would definitely consider Wolf Eyes since I can swap batteries with other models




(5)
Well designed product

By:

Stuart Dewar

on 19 July 2017

The headlamp is comfortable and relatively light to wear. The beam options give a good variety of light spread and intensity.




(5)
Awesome headlamp

By:

Clay

on 20 September 2016

This tiny light shines an amazing distance! Very, very surprised by how good it is and for the price, especially considering it comes with a charger and battery. Delivery blew me away, ordered at 09.30 and had it at 15.00. I am in Sydney and think these guys must be too, so probably only that quick in Sydney.




(5)
Lunar LED Headlamp rechargable

By:

Natalie

on 3 March 2016

My son absolutely loves it!! And it's great that it's rechargeable.




(5)
Awesome

By:

Mark from Ballarat

on 1 March 2016

Great headlamp in a light package. Really good for hunting but have also used it around the property in the two weeks I have had it.Shines a hell of a long way for something so small, much better than every other headlamp I have had.




(5)
If your looking for a head lamp and can't decide t

By:

James Drakos

on 20 August 2015

Amazing head torch couldn't be happier, super bright beam easy see eyes out to 300 m and the service is really good in your hand on the second day from purchase so quick I highly recommend there products to all my friends and people I talk too




(5)
wolfeyeslunar

30 July 2015

really good piece of kit. handy for lots of uses. don't think you will find something better in a hurry!!!




(4)
---
Others Also Bought
---
More From This Category