08.02.22 One of each Digex C50 now in stock!
The Digex C50 is the latest night vision scope from Pulsar. It's conventional metal body looks just like any normal scope, but actually houses a high definition sensor with enhanced sensitivity to give you great night time vision but also colour vision during the day. Record video and sound, wirelessly transmit in real time to a phone or tablet, use the picture in picture function to have a close up of the reticle (cross hairs) at the top of the screen while still viewing the whole background. There is a lot to like about the Digex C50, attractive conventional scope looks but high tech internals.
Review
There is a great detailed review of the C50 by Nathan Ravencroft of FVR Consulting - https://www.youtube.com/watch?v=ioSQo0vEF2s - lots of good info
Integrated Video and Sound Recorder
The Digex built in video recorder captures images in high definition with sound as well. As well as video you are able to take still pictures with your Pulsar Digex. These videos and pictures can be moved to your computer or mobile device either via wifi or a hard wired connection.
Enhanced sensitivity for night use
State of the art components with the latest image processing algorithms (which can be wirelessly user updated) mean you have the best night time sensitivity. It can work well without the illuminator and gives a very good image with 900nm to 950nm low signature illuminators. With illumination in the 820nm to 880nm range the images are very good indeed.
All metal body with 30mm tube
With a metal body for durability and good looks, combined with an industry standard 30mm main tube your Digex scope is ready for business and a long service life. Utilise your present 30mm mounts, assuming adequate clearance, or use a high quality 30mm quick release mount to share your Digex between your tools of trade.
3.5 to14x Variable Magnification
The base magnification of Digex C50 is 3.5 x power and this can zoom up to 14x.
High Definition Sensor
The Digex uses a sensitive 1280 x 720 HD CMOS sensor to give you a detailed and high quality HD High Definition image for your safety.
Picture-in-Picture mode
Picture-in-Picture mode is an extra image which shows the reticle (or cross hairs) in greater magnification than the main image. Taking only 10% of the total display area, the inserted picture shows a magnified image of the target and reticle and allows the user to closely see the image in the aiming area while still having visual control of the entire field of view at the same time.
Scalable ballistic reticles
Ballistic reticles are scaled proportionally to the scope magnification, in a very similar way to the reticles placed in the first focal plane of optical sights. Angular dimensions of reticles' parts remain constant at all magnifications, which allows quick estimating of distance and adjusting for shooting at various ranges.
Remote update of your firmware
Utilising the Streamvision app and access to internet, you can update the firmware and available functions either in the field or at home, all by yourself with no need for technicians. It is very likely that your scope will offer more functions and new abilities in the future.
Fully waterproof and High Calibre recoil resistence
The Pulsar Digex is waterproof to IPX7, so should be able to survise anything you would subject your other gear to. IPX7 is 30 minutes at 1 metre. The Digex is fine with .375, .30-06 and shotguns.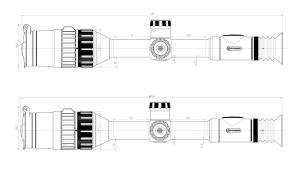 Digex Manual
Pulsar DIGEX C50
(156-pulsar-digex-C50)
| | |
| --- | --- |
| SKU | 156-pulsar-digex-C50 |
| Brand | Pulsar Thermal Night Vision |
Be The First To Review This Product!
Help other wolfeyes.com.au users shop smarter by writing reviews for products you have purchased.
---
Others Also Bought
---
More From This Category