The new Infiray Eye II Series - all models use a 12μm microblometer which has a lower power consumption requirement. The new Eye II series is designed to up the performance of our Eye thermal monoculars, while still providing the attributes Infiray is known for - good quality images and sharp pricing. All this with a 3 year warranty.
Small form factor thermal monocular
The InfiRay EYE Ⅱ series are designed to fit in a decent pocket so you can safely observe your surroundings, day or night. The small form factor does not mean any loss of capability, the Infiray Eye II series offer great clarity, long detection range, choices of colours for your image and recording and wifi capabilities.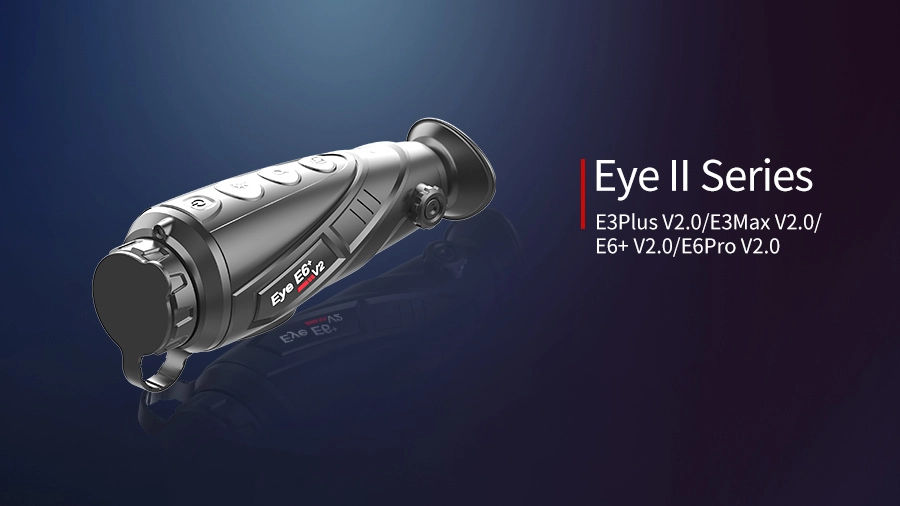 In the Eye Ⅱ series the image quality of Infiray's very own Vox detector, combined with thermal monoculars designed to suit these sensors, gives a high iquality image with clarity and detail, especially on the 640 sensor versions. This gives you high quality recordings and viewing images, even in total darkness.
On the new V2 Infiray Eye series the actual components of the sensor are embedded in ceramics, this reduces power consumption and gives a higher quality image.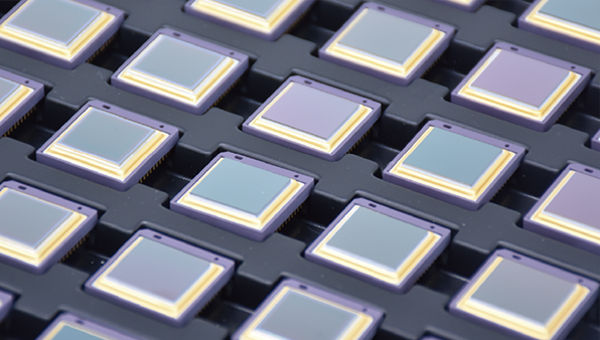 The whole Eye II series by Infiray offer a high definition 1280×960 display to give you a quality image and colours.
All Eye II models offer good long distance detection with some offering up to 2,600 metres, all achievable in total darkness. The figures below are based on a man sized target of of 1.7m and 80kg.

Standby Capability to save power
Sometimes you wish to stop using your thermal monocular for a break, to save power or to give total stealth by eliminating light from the viewfinder. The standby function allows the Eye monoculars to be put on hold, but with fast startup when required. This is much faster that turning your monocular fully off.
when you use a 50hz image refresh frequency such as the Infiray Eye series you get natural movement with none of the stuttering of 9hz or 20hz monoculars.
Picture in Picture (PiP) function
When you use Picture-in-Picture you get the central image area available in 2X at the top of the display. This way you have the magnified image and full view (and full quality) image available at the same time.
There are five colour palettes available in every Infiray Eye II monocular giving you the chance to choose the one which best suits your scene and your own personal preferences. It is easy to switch between the different palettes in use, you have "white hot" "black hot" "red hot" "color" and "hot target highlight".

Standard Stadiametric Rangefinder
A standard stadiametric rangefinder allows you to comapre the heights of objects and make a reasonable estimate of their range.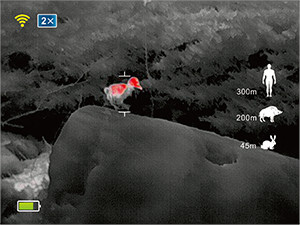 The Hot Target Tracking of the Infiray Eye series allows you to track the hottest section of the image and locate your target quickly and easily.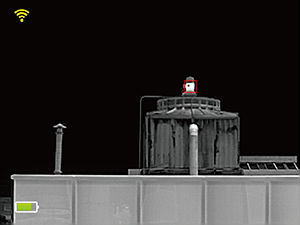 There is standard wifi of the Eye II series which unusually can connect to four devices at the same time. You also have the ability to record on your Infiray Eye II with the on board 16gb memory so you can keep those special moments.

Specifications
Model

E3Plus V2.0

E3Max V2.0

E6+ V2.0

E6Pro V2.0

Resolution, pixels

384×288

640×512

Pixel Size, μm

12

NETD, mk

≤40

Frame Rate, Hz

50

Objective Lens, mm

25

35

50

Field of View

10.5°×7.9°

7.5°×5.7°

12.5°×10.0°

8.8°×7.0°

Display

1280×960 LCOS

Optical Magnification, x

2.5-10

3.5-14.0

2.1-8.4

3.0-12.0

Digital Zoom, x

2/4

Max. Battery Life, h

7

6

Amount of built-in memory, GB
16

Dimension, mm

181×65×64

186×65×64

188×65×64

202×65×64

Weight, g

<420

<500

Detection Range, m

(Target size:1.7m×0.5m,P(n)=99%)

1298

1818

2597

Warranty

3 years

3 years

3 years
(132-infiray-eye-ii)
| | |
| --- | --- |
| SKU | 132-infiray-eye-ii |
| Brand | Infiray Outdoor Thermal |
Be The First To Review This Product!
Help other wolfeyes.com.au users shop smarter by writing reviews for products you have purchased.
---
Others Also Bought
---
More From This Category