08.02.22 We have very limited stock of both Trail2.
The new Trail2 thermal scopes have arrived! These scopes use the same IPS batteries and look the same as the previous Trail series, but are all new. They have a new magnesium body, new processing engine, new HD Amoled display screen but most of all have a new <40mK NETD sensor. The previous generation used a 50mK sensor, this new sensor is able to ascertain smaller temperature differences, giving you better detection capabilities and a far more detailed picture.The new magnesium body is better able to dissipate heat than the previous heatsink arrangement, now the whole body is a heatsink. The new screen is a clearer HD AMOLED display so you have better definition, handy to cope with the new sensor's output. All this new hardware demanded a new processing engine with new software. Even the battery is upgraded for better output – though it will still fit your older scopes and monoculars.
You will feel like Superman with the Pulsar Trail2, able to see through long grass and light brush at will! The Pulsar Trail2 Thermal Scopes have great capability including internal recording and wifi output to a phone or tablet. Pair the Trail2 - any model from the Pulsar Trail2 XP50, XQ50 - with your phone or notepad for a larger screen. Tremendous for law enforcement, vermin control, herd management, conservation or hunting the Pulsar Trail2 XP and XQ models cover a wide range of thermal imaging requirements. The image quality of the Pulsar Trail2 thermal scopes has proven to be amazing, hard to believe how good on the Trail2 XP50 and they have the proven Pulsar Thermal durability and quality. What surprised us as being useful was the wifi and recording. The wifi is great if with a partner, they can view what you are seeing on your Trail2 on their phone, seeing exactly what you are seeing in real time. No more trying to regain sight picture when changing operators on the thermal scope.
Internal recording on the Pulsar Trail2 thermal scope is great for showing property owners what is actually on their property and also for them to share with adjoining properties. There is nothing like a video to prove what is happening or what feral pests are where! For Police and Law Enforcement the recording is even more valuable. The Pulsar Trail2 scopes build on all the well known Pulsar Thermal capabilities then add the best of today's technology.
If you are a land owner or professional the new Pulsar Trail2 thermal scopes are - as one new Trail thermal owner described to us - a genuine game changer. This is really the next generation of feral control. When you are walk or drive into a paddock or the bush you know where every living thing is straight away, it is just so much more time efficient. In the old days you would set up in a paddock and whistle in or observed for a period to see what was there. Even after being there for an hour you never really knew if something was there and got your scent or observed you - or that really there was no feral pests there. Night vision improved that situation immensely, but still you were faced with the situation if you couldn't see the problem animals in the daytime or under a strong light, say pigs in wheat or foxes in long grass, then your night vision couldn't see them either. Then early thermal scopes came along which allowed you to see shapely blobs of anything with a heat signature, even through long grass - what a change! There was no hiding now. It is as if the ferals are standing in a freshly ploughed paddock with a large spotlight on them, they are that obvious. Then with the latest generation like the Pulsar Trail2 thermal scopes you can get good identification close and heat signatures out to 1800 metres. These Pulsar Thermal scopes allow you to go into a paddock and with a number of stops know quickly what is in it, great if you have a lot of territory to cover or would just like to sleep at some stage after working all day. Real efficiency and a genuine game changer. Thermal scopes really are the time efficient alternative to all previous feral pest control.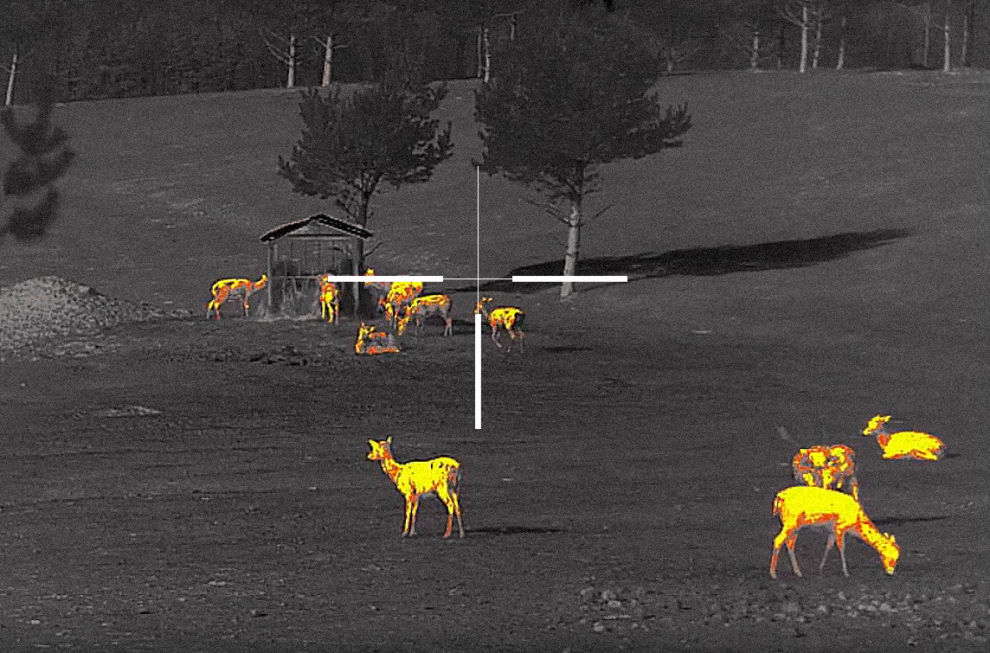 High Definition Images
The Trail2 is a big increase in image quality over the Trail1. The new microblometer (sensor), updated software, the new processor and the new screen all work together to provide a substantially improved image quality iin both the Pulsar Trail2 XP50 LRF and the Trail2 XQ50 LRF. You are now able to make out smaller items such as leaves, ears, hair in much more detail. Of course this will be continually updated with further firmware updates over the life of your Pulsar Trail2 - as we still do for the Trail1.

Included High Accuracy Laser Range Finder
The Pulsar Trail2 - both XP50 LRF and XQ50 LRF - both have as standard a Laser Range Finder with accuracy to ±1 metre. This is very helpful with a thermal scope, as often you see a great clear image but don't have enough markers to work out how far away the scene is. The included Laser Range Finder in the Pulsar Trail2 series, both XP50 LRF & XQ50 LRF, is accurate out to 1,000 metres.

Full Magnesium Alloy Body
The Trail2 has a full magnesium alloy body, primarily to increase heat dissipation from the electronics, removing extraneous heat to allow the sensor to provide you with a better quality image. The increased sructural rigidity offered by the magnesium alloy reduces vibrations and helps enhance the accuracy. Naturally the magnesium alloy body of the Trail2 is also quite rugged and durable, a side benefit.
Highly Sensitive Sensors
High sensitivity NETD 40mK thermal image sensor enables you to pick up small temperature differences even in conditions where the thermal contrast is low. This is a big increase in detail over our previous 50mK thermal image sensors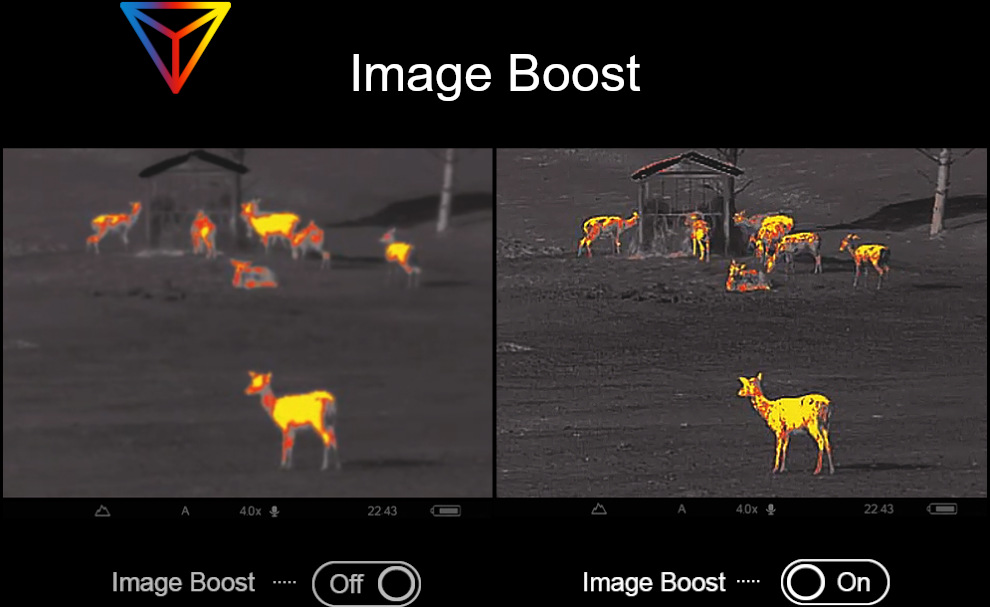 Image Boost
Image Boost is exactly that, it boosts the image detail through Pulsar algorithms to give a clearer and more detailed image. This genuinely does make a difference, the extra detail helping to make identification easier and generally enhancing the perceived clarity of the image.
Full Colour High Definition Display
The High Definition, Full Colour AMOLED displays used in the Trail2 ensure crisp, vividly rendered images and colours so you can get the best view of the image from your Trail2.
Wide Angle Eyepiece
The complex six lens eyepiece in the Trail2 offers a wide angle view that is 20% wider than the previous model. This gives you a wider view but also less strain when view viewing for longer periods as less contortions are required to view the high definition display.
One Press Photo & Video Recorder
If you need to record you can quickly do it by pressing one button, allowing you to share special moments with friends and family. Fast and efficent with no tricky setup and 16GB of internal memory to use.

Detection up to 1,800 metres
The Trail2 with it's 40mK sensor and advanced optics can detect a standard man sized heat signature (1.7m, 80kg) at 1,800 metres. This doesn't mean you can tell which of your friends is waving at you at 1.8kms away, but you will be able to detect there is something alive and living at that distance.
Wide Range of Reticles Inbuilt
There is a wide range of reticles inbuilt from which you can choose your favourite from for different situations, including being able to choose scalable ballistic reticles. After choosing your favourite reticle you can also choose if you would like the reticle in black, white, red or green.
Recoil Rated to 6,000 Joules (.375)
The Pulsar Trail2 is rated for recoil to 6,000 joules, roughly equivalent to a .375 H&H, 12 Gauge or 9.3x64.
Five Zeroing Profiles
The Pulsar Trail2 stores five different profiles with 10 different ranges each in it's memory so you can quickly and easily share your Trail2 thermal scope between your different calibres.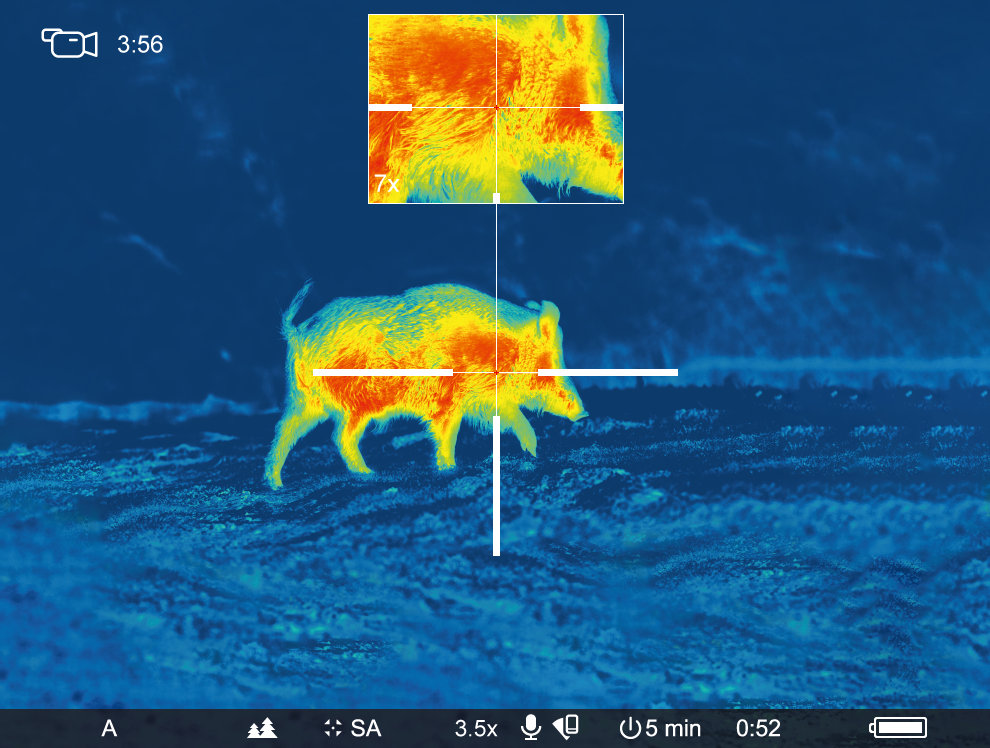 Picture in Picture
The centre section of the picture (including reticle) is displayed in a small window (10% of the screen) at the top in magnification so you can be more precise. This still gives you full field of view in the background picture.

High 50hz Refresh Rate
The 50hz refresh rate displays smooth, even, natural movement on your screen, withouth the choppiness provided by lower refresh rates.

Fully Waterproof
With the Pulsar Trail2 Thermal scope rated at IPX7 waterproof protection it ensures your Pulsar Trail2 performs perfectly in wet weather, even during intense rain, snowfall and submersion in 1 metre of water for up to 30 min. (IEC 60529). Probably worse conditions than you would like to subject your gear to - or yourself! This applies equally to the Trail2 XP50 LRF and the Trail2 XQ50 LRF thermal scopes.

Quick-change B-Pack IPS power units
Both of the Pulsar Trail1 and Trail2 thermal scope includes a progressive autonomous B-Pack power supply consisting of a quickly detachable, rechargeable IPS5, IPS7, IPS10 and IPS14 batteries. These batteries work equally well with your Pulsar Trail and Trail2 thermals scopes - all models including XP50, XP38, XQ50 and XQ38 - and also with your Pulsar Helion and Helion2 thermal scope & Pulsar Accolade and Accolade2 thermal binoculars.

Wide range of operating temperatures
With a frost resistant AMOLED display, the Pulsar Trail2 XP50 LRF and XQ50 LRF thermal imaging scopes are designed to deliver perfect performances at an extreme temperature range of -25° ... +50°С. Obviously thermal scopes and scopes work best with lower ambient temperatures, when the differential is greatest between the heat producing object and the ambient temperature. This applies equally to the Trail2 XP50 LRF and the Trail2 XQ50 LRF thermal scopes.

User friendly interface
The Pulsar Trail2 is designed to be easy to use. A lot of client feedback has resulted in the most friendly interface to date, complete with an easy to read, icon driven, alpha numeric status bar at the bottom of the display. Internal menu items and options are also displayed on a contrasting gradient substrate so you can keep an eye on settings without losing sight of your objective. We want it to be straightforward to use your new Trail2 thermal scope, not a task like learning to reprogram a computer. The majority of functions which aren't required for daily thermal scope use are in sub menus so out of your day to day way. This applies equally to the Pulsar Trail2 XP50 LRF and the Pulsar Trail2 XQ50 LRF thermal scopes.

Display off mode
During short periods of inactivity of your Pulsar Trail2 thermal scope can be in 'display off mode' and before use to provide better concealment, Display Off powers down the display without interrupting any other functions. Using Display Off means you have a much faster restart time of your Trail2 thermal scope when you need it most.

Updatable software
For your initial setup and ongoing updates, the iOS and Android compatible Stream Vision App will ensure that the most recent Pulsar Trail2 thermal scope software versions are available to your thermal scope. The Pulsar Stream Vision App will notify you when an update is available, give you the option to download to your phone or tablet, then when connected to your thermal scope or scope give you the option of updating it's software. Very straighforward and an easy way to keep your thermal scope up to date with the latest features. This applies equally to the Pulsar Trail2 XP thermal scope series, the Trail2 XP50 LRF and the Pulsar Trail2 XQ thermal scope series, the Trail2 XQ50 LRF thermal scopes. We are still providing updates for our original Trail series scopes!
Trail2 XP50 LRF & XQ50 LRF Instruction Manual
Trail2 XP50 LRF & XQ50 LRF Quick Start Guide
(103-pulsar-trail-wolfeyes)
| | |
| --- | --- |
| SKU | 103-pulsar-trail-wolfeyes |
| Brand | Pulsar Thermal Night Vision |
| Shipping Weight | 0.0001kg |
| Shipping Width | 0.001m |
| Shipping Height | 0.001m |
| Shipping Length | 0.001m |
Good

By:

Andrew Best

on 22 July 2018

It was bad start to getting my XP50, I was quoted 2 weeks then 4 weeks then 7 weeks by someone, always changing and all after I had paid. Two different friends suggested I call Glen here, he quoted 3 weeks and true to his word delivered it a day early. All this frustration put a bad taste in my mouth but after using the scope all was forgotten. This is the next thing in feral pest control, shot 5 foxes on the first night, actually felt like I had the upper hand for once. Wanted to stay out all night and clean up every pest on the farm. The detection capability is amazing and you can see every pest in a paddock. Picture in picture is great and really helps with shot placement on long shots, have used it on 300 metre shots. This is a great aid to anyone with feral pest problems, hope all my neighbours buy one. 100% recommend.




(5)
True Love

By:

Allan Rowell

on 15 May 2018

Got the XQ50 and is really true love. unbelievable what it can do, it probably cuts out 3/4 of the time I would spend on reducing foxes. First lambing season with it and wish I had bought one five years ago, will probably pay for itself this year.




(5)
Almost perfection

By:

Scott Thompson

on 12 December 2017

The XP50 is my second thermal rifle scope and by far and away the best. Everything is good about this, the quality is easily the best thermal I have ever seen and I looked at everything I could when I was choosing this one. The battery lasts a all night, the phone app works well and the recording works. I had a different brand before and would easily give this scope 10 out of 10, only thing which would make it better would be being cheaper. You almost feel guilty how good it is when you are using it. Almost.




(5)
Game Changer

By:

Mike

on 7 December 2017

Recently got a Trail XQ50 and it is a game changer. Part of our property is half an hours drive away, so we spend less time eradicating pests there. Also when we get there we never really new what was around, now with the Trail we know within minutes after arriving. It has easily made us tenfold more effective and cant recommend the scope highly enough.




(5)
Yes it's true

Everything you have read or seen in the videos is right - I am sure you have read them all like I did. Absolutely fantastic scope and compares very, very well with some my friends own. Could not be happier. Thank you Glenn for getting me one of the first in Australia.




(5)
---
Others Also Bought
---
More From This Category