Do you own a ballistic helmet , or are you issued one at work? Do you breach doors for a living? Then the Infiray Mini might be of interest! The Mini is a very small, compact helmet mountable thermal monocular which is small enough to be carried in a pocket or light enough to be mounted on a helmet, even as a pair. The Infiray Mini series, both MH25 and ML19 also are useful for those who need to walk around covertly at night, such as hunters, feral pest control and also those who work with animals.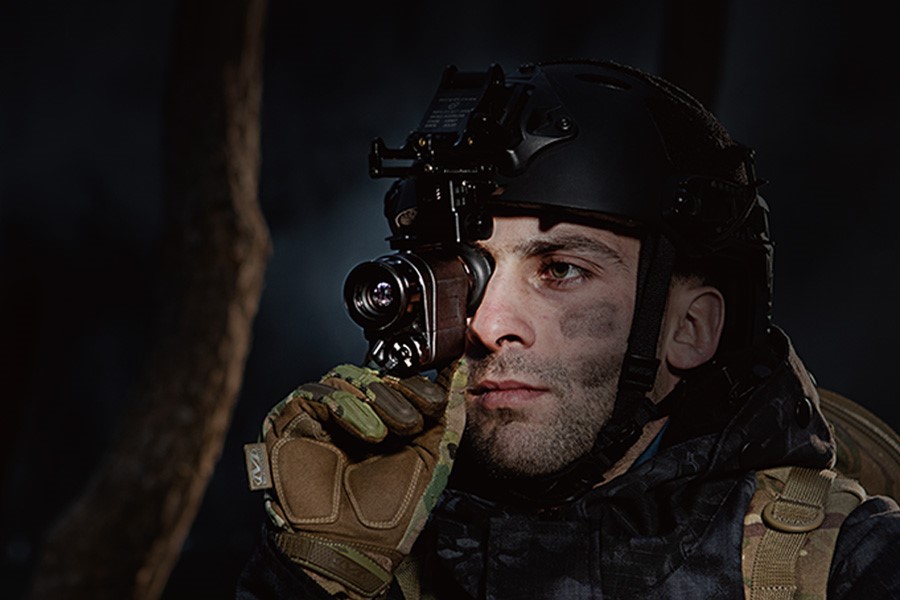 Good Image Quality
The Infiray Mini series utilises an Infiray made Vox detector, with the whole monocular optimised both in electronics and lenses to take advantage of the inhouse thermal detector. This sophisticated processing gives a particularly high quality in the MH25 thermal monocular.
17μm or 12μm Thermal Imaging Sensor
A high performance 12μm pixel (MH25) pitch Vox detector and 17μm pixel (ML19) pitch Vox detector is in the MH25 and ML19 respectively.
High Definition Display
Both Infiray Minis feature a high definition 1280×960 screen, important when the device could be worn so close to the eye. This enables high clarity and good rendering of colours.
Full 50hz Frequency
The refresh rate of 50hz means movement is faithfully shown on your screen.
Simple to use
The Infiray Mini is controlled by one rotary control. This intuitive design makes it easier to use in high stress conditions or in total darkness.

Multiple Mounting Choices
The Mini has multiple attachment points including ones for various helmets and attachment points to add additional equipment. It also can be mounted on other wear besides helmets. The Infiray Minis both automatically orientate themselves - they rotate the image to suit how the monocular has been mounted.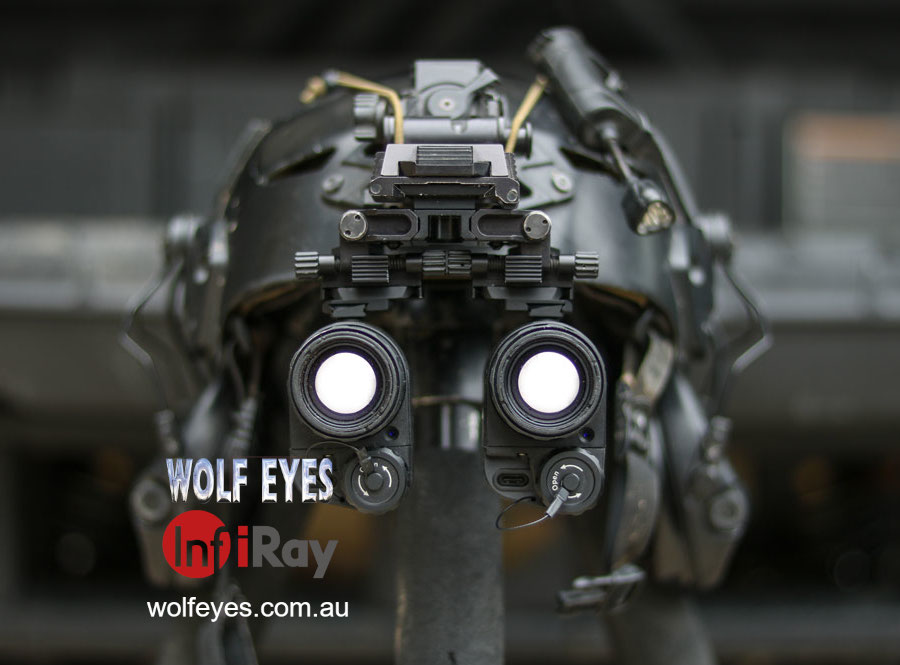 Multiple Power Supplies
CR123A, 16340, CR123 and 16650 batteries can all be used with the Infiray Mini (the 16650 requires the use of the included extender) . Runtime on the 16650 is 3 hours and if you use the included cable you can run the Mini off a USB power bank.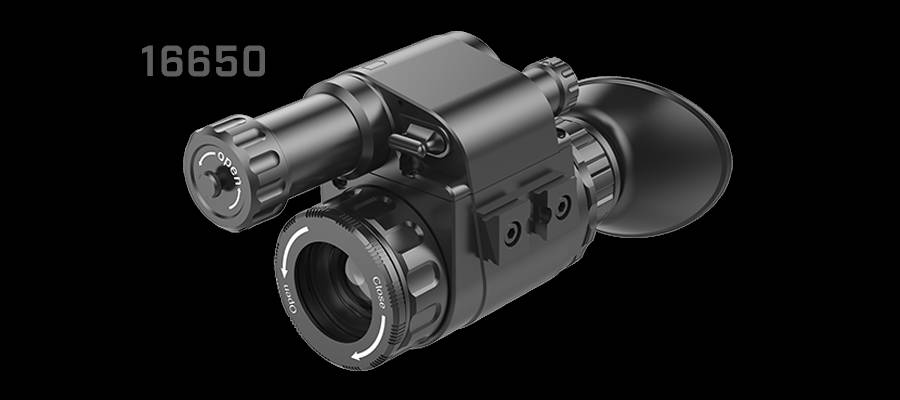 Inbuilt Stadiametric Rangefinder
The inbuilt stadiametric rangefider in the Infiray MIni - both MH25 & ML19 - allows a rough estimate of distances of targets to be made.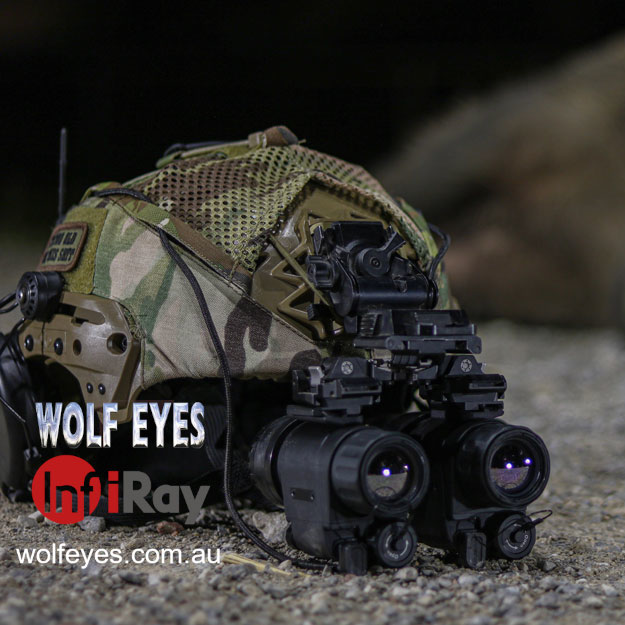 Picture in Picture
The Picture-in-Picture (PiP) allows you to see the centre of the image at two times (2X) magnification while still observing the full image.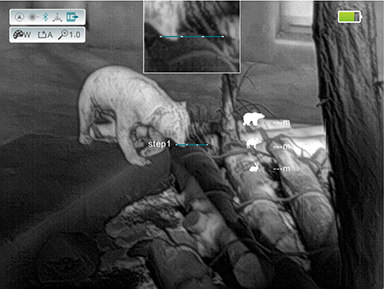 Digital Compass & Incinometer
This gives the Mini series the capability to sense orientation, etc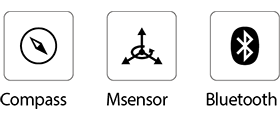 Remote Control
When helmet mounting your Infiray Minis, both MH25 & ML19, you can use the included remote control capability for added convenience.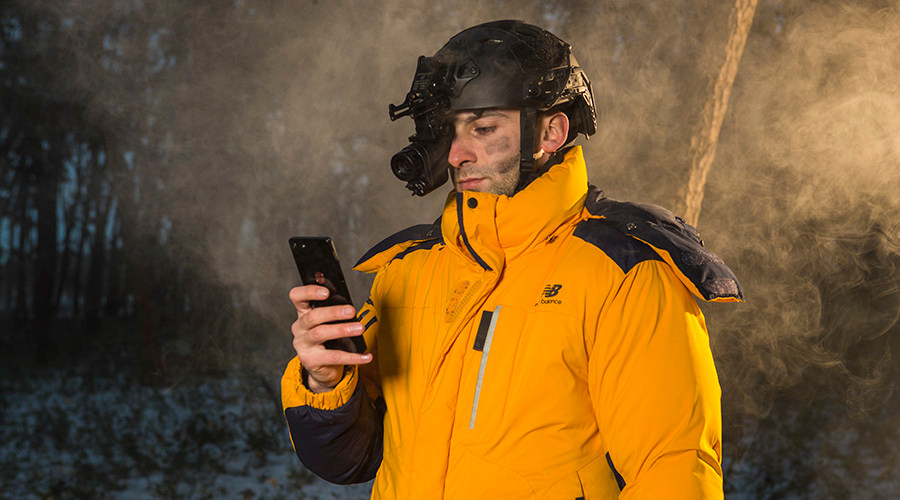 Mini Series Specifications
Main

ML19

MH25

384×288 - 17μm - NETD, mK≤40

640×512 - 12μm - NETD, mK≤40
19
25
1.0-4.0
1.0-8.0
696
1298

uncooled

uncooled

384×288

640×512
50

50

Objective lens, mm
19
25
Field of View, degrees
19.5°×14.7°
17.5°×14°
1.0-4.0
1.0-8.0

1280×960
1280x960
Black, White, Red Hot, Rainbow

Black, White, Red Hot, Rainbow

Environmental Characteristics

Degree of protection, IP code (IEC60529)

IP67

IP67

Detection range (person), m

696
1298

16340 or 16650
16340 or 16650

Operating time on battery pack (at t=22°C), h *

16340-up to 2hr
16650-up to 4hr

16340-up to 1.5hr
16650-up to 3hr

Yes

Yes

121×70×45mm
128×70×45mm
<0.225

<0.225

3 years

3 years

ML19

MH25
(136-infiray-mini)
| | |
| --- | --- |
| SKU | 136-infiray-mini |
| Brand | Infiray Outdoor Thermal |
Be The First To Review This Product!
Help other wolfeyes.com.au users shop smarter by writing reviews for products you have purchased.
---
Others Also Bought
---
More From This Category