Lumens: 1,210 lumens
Throw: 100 metres
Length: 178 mm
Beam Type: Reflector – Spot surrounded by flood
The Sniper E is a compact high intensity tactical LED torch with 6 levels including two strobes and a huge 1,210 lumen output. This is the internal USB charging version of our famous Sniper II Pro which is in use in many, many Police units throughout Australia including all of SAPOL. The Sniper E features a spot surrounded by flood beam, great for locating offenders or just general use. The Procap which allows you to choose the level of output - or the slow emergency strobe or fast disorientating strobe - is installed on this torch. The Sniper E features USB charging so you can charge from any of your USB power sources - but also has a removable battery so you can have 100% uptime with a spare battery and utilise your existing Wolf Eyes chargers.
Light Output and Beam Pattern
The 1,210 lumen LED in the Sniper E LED rechargeable torch provides a good beam out to 100 metres. The reflector head provides a beam of spot surrounded by flood and a solid pool of light in the midrange. There are 6 levels of light output – high, medium, medium/low, low, slow emergency strobe and fast disorientating strobe. The Sniper E utilises a 35mm head to give a 100 metre throw. We believe the Sniper E, Sniper II Pro and Pro Police are our equal best Police torch, the difference being the head size to give the required throw.
The Sniper E provides 1.5 hours of light on high beam with the standard battery and 45 hours hours on low beam.
Procap
The Procap is a conventional tailswitch in the centre but has a ring around the outside for you to change levels. This can be used to change the output level of the torch at any time, ie when it is on or before it is turned on. Particularly useful for say picking low beam before turning on so as not cause too much reflection when reading or say selecting strobe before approaching offenders. It offers two strobe levels, a fast disorientating strobe and a slower emergency strobe.
TTT and Construction
The Sniper E features Wolf Eyes unique Thermal Transfer Tube (TTT) which is a brass liner designed to drag damaging heat away from your LED and radiate the heat from the body, basically using the whole bodies thermal mass as a heatsink to radiate the heat away. The body is constructed of 6061-T6 aircraft aluminium, the two metals bonded together creating a structure stronger than either individually. Thirdly this brass liner also provides better electrical conductivity. The Sniper E body is a standard 25.4 mm (1") a good size to carry. The body is finished in a low temperature Hard Anodizing in tactical black.
The reflector is made of high temperature coated alloy, with layers of alloy films for a long lasting reflective finish.
Regulation
Being regulated means your Wolf Eyes Sniper E LED torch doesn't get dimmer as the battery flattens. The regulation unit always maintains the optimum amount of power to the LED, meaning that as the voltage decreases as the battery flattens we increase the amperage to still provide the same current to the LED. This also works in reverse, contrary to what is advertised you do not want to use multiple batteries to overpower your LED, while it will shine brightly for a short time it will eventually overheat and suffer reduced output for the rest of it's remaining life.
Rechargeable Batteries
The Sniper E LED torch uses our LRB168P (18650) battery which is a protected lithium ion battery. Being Lithium Ion means the battery has large reserves of power, meaning only one is required which keeps the torch profile within 25.4mm, important for a professional use LED flashlight and compatibility will all mounts. Being protected is very important, lithium ion batteries can discharge very quickly and also suffer thermal runaway (we have all see those videos of laptops on fire or exploding), this chip controls charging and discharging.
Cold Weather
Due to the Lithium Ion batteries the Sniper E LED flashlight works well in sub zero conditions, unlike most batteries which lose substantial reserves of energy if used in lower temperatures. The picture below is of a Wolf Eyes LED flashlight on low, which was then put in the freezer and frozen. After 4 days it was still shining – inside the ice cube!
Australian Approved Charger
Your Wolf Eyes LED torch is supplied with an Australian Approved Charger, meaning firstly it is safe for your or your staff and secondly all your insurances apply (Building, Workers Comp, Home). The internal charger can be used with USB power sources for charging of your battery where convenient but you can still remove the battery for charging externally to ensure you have maximum uptime for your torch.
Upgradeable
The Sniper E torch has a removable LED which can be upgraded when suitable newer or brighter LEDs come out.
Personalisation
The Wolf Eyes Sniper E LED torch can be personalised to suit your unit, division, command, team or organisation with engraving on the side. A great way to reduce loss and build pride.
Support
The Wolf Eyes Sniper E torch is supported in Australia with a full range of spares and a 1300 911 007 phone number to answer your questions. Due to the large number of Police and Military units using Wolf Eyes torches and lights in Australia, including the whole of the South Australian Police using the Sniper II Pro torch and many, many other specialist units, we are both morally and contractually obligated to have adequate spares on hand, which we do and also service facilities. As well as this, after hours the 1300 911 007 number is answered by live operators to take your message so it can be attended to in working hours. For your safety we want to keep your torch always working.
Different Levels of the Procap
This short video shows the different levels of the Procap and the ability to preselect a level before turning on - the video goes through high, medium, medium low, low, slow emergency strobe and the fast disorientating strobe. The torch is then turned off and low preselected. Then off again and the disorientating strobe is selected.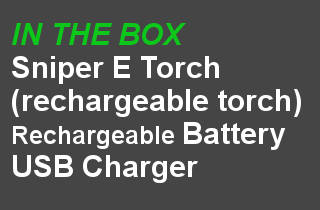 (220-wolf-eyes-sniper-e)
| | |
| --- | --- |
| SKU | 220-wolf-eyes-sniper-e |
| Brand | Wolf Eyes LED Torches |
| Shipping Weight | 0.0010kg |
| Shipping Width | 0.001m |
| Shipping Height | 0.001m |
| Shipping Length | 0.001m |
General Purpose Torch

By:

Edward

on 30 November 2018

I was getting complaints about my other torch hurting peoples eyes when I turned it on and released the 1100 lumens. I studied the range of Wolf Eyes torches and found the Sniper E with the Procap, this lets you switch the torch on at a low light level. The torch also has a fixed focus, ideal to spread the light away from eyes and is also simpler for the family to use. Lastly the USB lets you charge the torch in your car . I think you can find your ideal torch at Wolf Eyes when you consider the focussing and tail cap choices available.




(5)
torch fantastic, pouch not so good

By:

robert fielding

on 5 September 2018

received the torch as a gift and it became my duty torch which l carried on my police duty belt. The torch is rugged and reliable and throws a huge amount of light for it's size. It is such a good torch my station purchased a dozen of them. However, the canvas pouch it came with is made of poor quality material, the bottom ripped open within two months of use. Because of the torches unusual design l am unable to find a better pouch and l have resorted to duck taping the original one.




(4)
Excellent

By:

Michael

on 4 September 2018

I use this torch at work and have to say it has a tough life. Its been dropped a bunch of times, out in the pouring rain and used every single day and has not missed a beat. Battery life could be higher but i see the new model has a micro USB port which would make charging on the go possible. Would 100% recommend buying this for a high quality torch!




(5)
Sniper E LED Torches

By:

Andrew DW

on 1 May 2018

What a great piece of kit. Small and tough, but excellent light beam at night. Best part, charges from a USB adaptor.




(5)
Sniper E LED torch

By:

Marcel Radici

on 1 September 2017

I had been waiting to buy a good quality torch for work for a while and once the time came, i jumped straight on it and i am pleased to say that it was worth every cent! The Sniper E is the perfect size, fitting nicely in my current torch pouch. It feels extremely durable and solid and is lightweight and comfortable to use and also very bright. A top quality product from a top quality seller! And it arrived extremely fast! Wolf eyes even included a free key chain LED light and a thank you note which made the experience that much better. I highly recommend Wolf Eyes for their products and service! Without a doubt, i will be coming back when the need arises, Thank you Wolf Eyes!




(5)
Top Product

By:

Graham Smith

on 3 August 2017

A great product, solid, easy to work with, hold and the power of that lens is brilliant. I added the holster which fits perfectly and makes the whole package a good purchases.




(5)
Good

By:

Gary Johnston

on 23 June 2017

Bought five of these to go with the Sniper Pros we already use. After one nights use seems every bit as good and the same quality. Thanks




(5)
---
You May Also Like
---
Others Also Bought
---
More From This Category