20.04.20 The one Pulsar shipment into Australia every month has arrived and all paid pre-orders have shipped. Call to pre order. The next shipment is due 07.05.20 and the only scope we expect in high single digits is the XP50, which we you can pre order here. Other versions will arrive in low single digits, please call to discuss pre ordering. We have been asked about future shipments. We fully intend and expect monthly thermal shipments into Australia will continue, though in these uncertain times nothing can be guaranteed.
The Thermion delivers all our latest technology but in a conventional 30mm tube scope packaging.
The Trail LRF is the model with LRF, the Thermion is the model with similar capabilities, no LRF but in an attractive, familiar package which could pass as a glass scope.
The Thermion thermal rifle scope can detect up to 2,300 metres away and can take videos or pictures. It also has the ability to stream its live vision to your phone or tablet. The Thermion thermal rifle scope offers all the thing you are used to on the Trail thermal scope - then a few little things extra. There is picture in picture (which is great for having a wide view and then close up of the reticle or cross hairs), multiple changeable reticles, different zeroing profiles for different calibres, variable magnification, the ability to upgrade functions via wifi, the IPX7 waterproof rating and user friendly controls. You then add a new colour pallette, an almost instant start up and the ability to mount on standard 30mm scope rings.
Features
- Extreme Detection Range 1800м (2,000 Yds)
- High Definition image
- Variable Digital Zoom
- Recoil Rated up to .375 H&H, 12-Gauge and 9.3x64
- Mounts on Standard 30mm Scope Rings
- Instant Start-up
- Rugged, Reliable All-Metal Housing
- IPX7 Waterproof Rated
- Zeroing Profiles Management
- Customisable Reticle Options
- Full Colour, HD AMOLED Display
- Video and Still Photo Recording
- Picture-in-Picture
- Color Palettes
- Stream Vision App Supported
- Upgradable Functional
- User Friendly Controls
- B-Pack Mini Combined Power System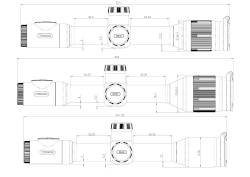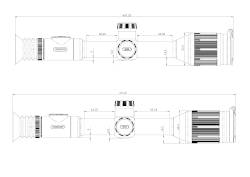 THERMION Technical specifications
| | | | | | |
| --- | --- | --- | --- | --- | --- |
| Model | Thermion XM38 | Thermion XM50 | Thermion XQ50 | Thermion XP38 | Thermion XP50 |
| Type of Microbolometer | Uncooled | Uncooled | Uncooled | Uncooled | Uncooled |
| Frame Rate, Hz | 50 | 50 | 50 | 50 | 50 |
| Microbolometer resolution, pix. | 320х240 | 320х240 | 383x288 | 640х480 | 640х480 |
| Pixel Pitch, μm | 12 | 12 | 17 | 17 | 17 |
| Display type | AMOLED | AMOLED | Amoled | AMOLED | AMOLED |
| Display Resolution, pix. | 1024x768 | 1024x768 | 1024x768 | 1024x768 | 1024x768 |
| Integrated video recorder | yes | yes | yes | yes | yes |
| Built-In Memory, Gb | 16 | 16 | 16 | 16 | 16 |
| Format of video file | MPEG-4 1024x768 | MPEG-4 1024x768 | MPEG-4 1024x768 | MPEG-4 1024x768 | MPEG-4 1024x768 |
| Format of photo files | JPEG 1024x768 | JPEG 1024x768 | | JPEG 1024x768 | JPEG 1024x768 |
| Micro USB Socket | Power/Data | Power/Data | Power/Data | Power/Data | Power/Data |
| Magnification | 4-16 | 5.5-22 | 3.5-14 | 1.5-12 | 2-16 |
| Digital zoom, x | 2/4 | 2/4 | | 2/4/8 | 2/4/8 |
| Lens focus, mm | 38 | 50 | 50 | 38 | 50 |
| Relative aperture, D/f' | 1:1,2 | 1:1,2 | 1:1.2 | 1:1,2 | 1:1,2 |
| Field of View,°, horizontal | 5.8 | 4.4 | 7.5 | 16.3 | 12.4 |
| Minimum focusing distance, m | 5 | 5 | 5 | 5 | 5 |
| Eye Relief, mm | 50 | 50 | 50 | 50 | 50 |
| Diopter adjustment, dptr. | -3/+5 | -3/+5 | -3/+5 | -3/+5 | -3/+5 |
| Detection range, m (object (human = 1,7*0,5m) | 1700 | 2300 | 1800 | 1350 | 1800 |
| Battery type | Combined internal 18650 Li-ion and external 18500 Li-ion | Combined internal 18650 Li-ion and external 18500 Li-ion | Combined internal 18650 Li-ion and external 18500 Li-ion | Combined internal 18650 Li-ion and external 18500 Li-ion | Combined internal 18650 Li-ion and external 18500 Li-ion |
| External Power Supply | USB 5.0V | USB 5.0V | USB 5.0V | USB 5.0V | USB 5.0V |
| Windage & Elevation, 1 click (H/V), mm/100m | 10/10 | 7/7 | | 28/28 | 21/21 |
| Reticle adjustment range, H/V, mm/100m | 2000/2000 | 1400/1400 | | 5600/5600 | 4200/4200 |
| Reticle Type | electronic | electronic | electronic | electronic | electronic |
| Body Material | metal | metal | metal | metal | metal |
| Operating Temp,°С | -25/+50 | -25/+50 | -25/+50 | -25/+50 | -25/+50 |
| Waterproofness, yes/no | Waterproof IPX7 | Waterproof IPX7 | Waterproof IPX7 | Waterproof IPX7 | Waterproof IPX7 |
| Calibration | manual, auto semi-auto | manual, auto semi-auto | manual, auto semi auto | manual, auto semi-auto | manual, auto semi-auto |
| Shockresistance on rifled weapon, J | 6000 | 6000 | 6000 | 6000 | 6000 |
| Mounting brackets on weapon | 30 mm rings | 30 mm rings | 30mm rings | 30 mm rings | 30 mm rings |
| Length, mm | 394 | 402 | 407 | 394 | 402 |
| Width, mm | 78 | 78 | 78 | 78 | 78 |
| Height, mm | 64 | 64 | 64 | 64 | 64 |
| Weight (without batteries), kg | 0,75 | 0,9 | 0.9 | 0,75 | 0,9 |
| Zeroing profiles | 5 profiles | 5 profiles | 5 profiles | 5 profiles | 5 profiles |
| Zeroing distances | 10 per profile | 10 per profile | 10 per profile | 10 per profile | 10 per profile |
| Defective pixel repair option | yes | yes | yes | yes | yes |
| Integrated Wi-Fi module | yes | yes | yes | yes | yes |
| Stream Vision free app support | yes | yes | yes | yes | yes |
| The operation modes | rocks, forest, identification | rocks, forest, identification | rocks, forest, identification | rocks, forest, identification | rocks, forest, identification |
(105-pulsar-thermion)
| | |
| --- | --- |
| SKU | 105-pulsar-thermion |
| Brand | Pulsar Thermal Night Vision |
Excellent

By:

Graham Hamilton

on 8 April 2020

When the Thermion arrives you can tell it is a quality piece of kit as soon as you pull it out of the box. Well made metal body, nice controls and looks like you expect a scope to look. Our present thermal is 3 years old, so expected the Thermion to be better and it didn't disappoint. Very good image quality, great range and you can link to your phone. Also takes videos. Would give it ten out of ten.




(5)
---
Others Also Bought
---
More From This Category