NiteHunter LED Hunting Torches - Black 1,210 - Dual Tailcap
Rated

5

/

5

based on

7

reviews.
WAS $169.00
RRP $169.00
NOW $135.00
SAVE 20%!
Sale Ends in
14:00 pm, 15 December 2023
Sold Out
Throw: 200 metres
Beam Type: Aspheric - spot adjustable to flood
Lumens: 1210
Length: 150 mm


Lumens: 1210 lumens
Weight with battery: 232 grams
Throw: 200 metres
Length: 150 mm
Beam Type: Aspheric – spot adjustable to flood
The NiteHunter was always designed to be a hunting torch, from it's large rotary adjustable aspheric head – which resists movement from heavy calibres - to it's dual tailcap which enables it to be used with a tapeswitch on a scope and without one off. Providing a spot out to 225 metres the NiteHunter may be all the hunting torch you need.
Light Output and Beam Pattern
The NiteHunter torch with its large aspheric head and slightly greater distance than usual between LED and aspheric lens (magnifying glass) concentrates every one of its lumens into it's spot to provide a good beam out to 225 metres. This can be adjusted back to flood. There is a high beam, medium and low beam.
TTT and Construction
Like all of the Wolf Eyes LED Hunting Torches the NiteHunter is built around the brass TTT – Thermal Transfer Tube. The Thermal Transfer Tube has three benefits, it strengthens the total body structure, it enhances electrical conductivity and most importantly drags damaging heat away from LED. If overheated LEDs suffer permanently reduced output.
The rest of the body is made from aircraft grade aluminium which is then low temperature (-20o C) Hard Anodized tactical black.
Dual Tailcap
The tailcap is the Wolf Eyes Dual Tailcap, which means you can use it like a regular tailcap or screw on the included tapeswitch for faster control of your light. The Dual Tailcap also features a spring in it, combined with the spring at the front of the body, the two springs contain the battery which can move but electrical contact is maintained at all times, even with heavy calibres.
Regulation
The NiteHunter LED Hunting Torch is regulated, meaning it doesn't dim as the battery flattens. Torches usually dim as the battery flattens, sometimes just a little and often a lot. This is because the battery reduces in voltage as it flattens. The solution to this regulation, this increases the amperage as the voltage is reduced, so the optimum power or cuurent is always supplied to the LED.
Rechargeable Batteries
The Wolf Eyes LRB168A lithium ion battery (18650) supplied with the NiteHunter torch light is also used in all our other hunting torches and headlamps, giving you interchangeability. This is both an energy dense battery (meaning you only need one and so can keep the 25.4mm – 1" -standard firearm body size) and also protected for your safety.
Cold Weather
All Lithium Ion powered Wolf Eyes LED torches work well in cold weather, the NiteHunter hunting flashlight being rated from -20o C to +60o C.
Australian Approved Charger
The charger with your Wolf Eyes LED Torch is Australian Approved, meaning that you can feel safe using it and all your insurances will apply.
Support
Your Wolf Eyes Torch is fully supported within Australia. We have spares here with solid stocks to support our Police and Military partners, we also have a 1300 911 007 phone number to provide over the phone assistance. After hours there is live answering on this line so you can be looked after during working hours.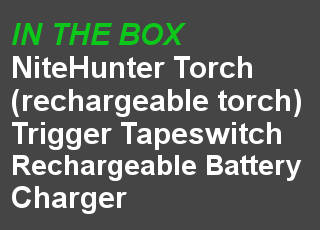 Wolf Eyes NiteHunter at 225 metres click picture for larger Insert of of Wolf Eyes NiteHunter at 225 metres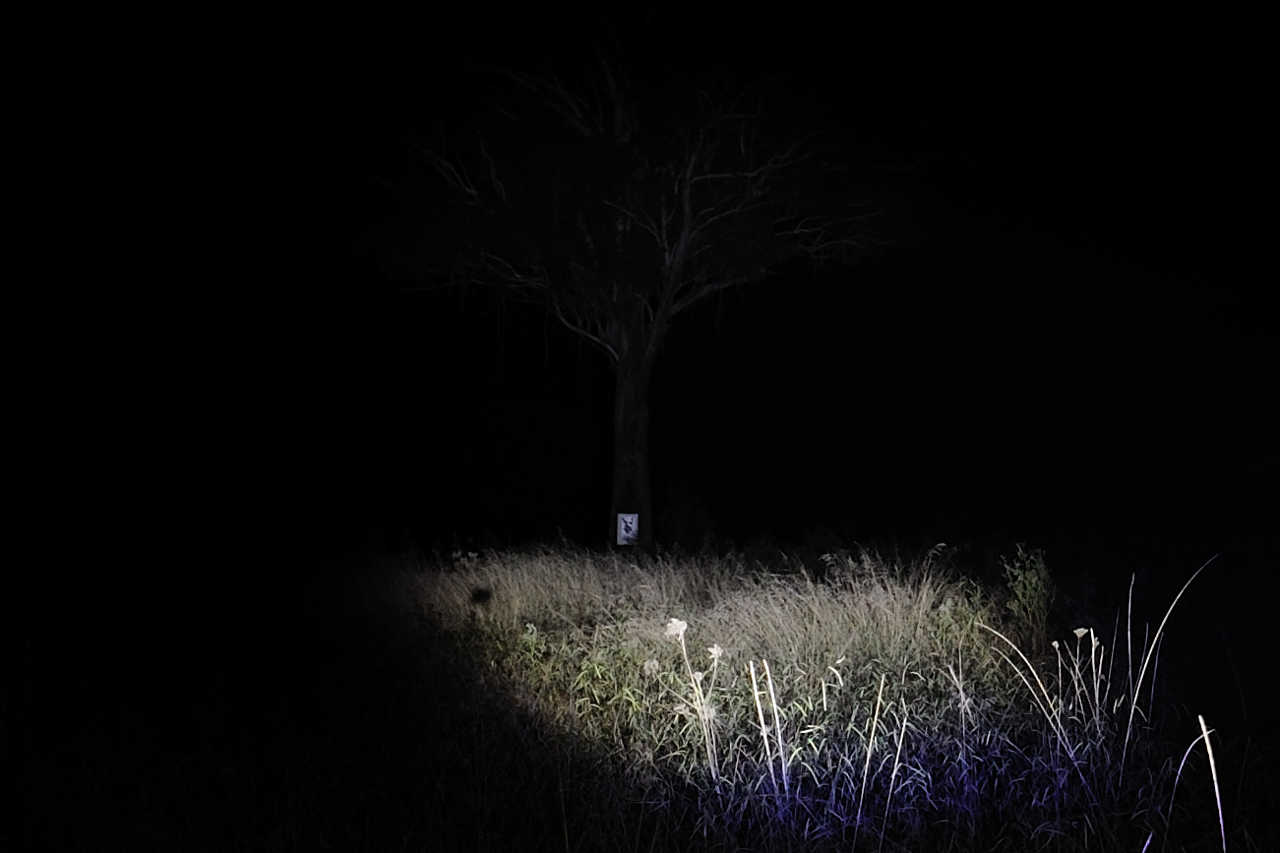 Video of the Beam of the standard Hunting NiteHunter showing tight spot
Video of the beam of the 1,000 + lumen NiteHunter showing the broader spot
(211-wolfeyes-nitehunter)
| | |
| --- | --- |
| SKU | 211-wolfeyes-nitehunter |
| Brand | Wolf Eyes LED Torches |
| Shipping Weight | 1.0000kg |
Great product

By:

SOPHIE HENDERSON

on 23 August 2017

Great torch, love the features and the throw of light that comes out of this small compact item, i have recently started my own business where lighting is a key element and this product has been better in size and lighting then my medium but bulky spotlight, my father bought one of these torches a few years back and i remeber me and my siblings being very impressed and jealous, will be buying all my lighting from this site from now on, customer service is great and informative loved the personal touch of a letter with the parcel and the packaging was very professional, thank you wolfeyes team




(5)
Night Hunter

By:

Anthony Corkhill

on 2 May 2017

I purchased this product and was a little sceptical of the 200m throw of light promised but thought 100m is ample. Coudlnt wait till last light. Finally it was dark enough to test. WOW WOW WOW, how good is this. 200m easily, watch out foxes. Very happy with the product.




(5)
A must have torch

By:

Sharon Mangold

on 7 February 2017

My husband used a mates torch and just had to have one. My son too. Couldn't wait to try it and is rapt with it. His mate will want one now it is so good.




(5)
NiteHunter vs the rest

By:

Peter Ward

on 30 December 2016

I recently purchased a NiteHunter kit with the dual tailcap and charger. It is a magnificent light and I could be happier. Target identification is clear out to 200m which is the limit of my accuracy at night. It is a much better hunting light for centrefire rifles than the original Wolfseyes Sniper I have had for 10 years. The sniper will now be a rimfire specialist light. The NiteHunter easily outperforms the competitors P7R2 and P5R2 models that I also own. I ordered online on Saturday and the parcel was delivered the following Tuesday using Australia Post's standard parcel service. Great service and an even better light.




(5)
Excellent value

By:

Robert Anderson

on 29 October 2016

I purchased this torch to fit to my Sako .223. It has performed as advertised; easily lighting up targets out at 150-200 metres. Recommended for anyone running a scope between 8X and 16X.




(5)
Awesome

By:

Troy

on 5 September 2016

I bought the 'Nite Hunter' to do just that. Spotlighting on foot adds another level of hunting for me. Wish I had this torch earlier. I also bought the 'Lunar' head torch by wolf eyes and when the two are paired you can't go wrong.




(5)
Nitehunter LED, My thoughts.

By:

Dave bodycomb

on 4 August 2016

Hello there; I did quite a bit of research before purchasing this unit, i had not heard of the WolfEyes brand previously. So far the torch has been performing flawlessy and has turned out to be a superb small hi powered portable light source. My applications are for camping, hunting and home security, and in these roles, the flashlight excels, beam distance is exceptional for its size! I like it so much, i purchased the accessory car charger, belt pouch, and a spare hi-cap battery for the kit too, this is true. The only thing that could be added is a lanyard hole at the back if someone wanted to lug it on a cord round there neck, doable with the accessory belt pouch though. It's not the sort of kit you want to loose. It could also come with a small microfibre cloth for cleaning the lens, as a thought? This is my subjective opinion, however, nothing else out there i've seen so far compares for the money. There is always a trade off between cell life and lumens power yet this Led torch has balanced it perfectly in my opinion. If you crank the juice down with a click you can double your light time and again, flashes too. Clever what this company has done with this unit. Tactical night time variable beam hi power illumination in a compact hi strength package, "yep"- i'm in. I have a personal appreciation for well engineered products like this. That's exactly what i wanted for my money, and i got it +1 for sure, impressed. Ideally i would like a 2nd one.......5 stars :-) Thanks & Regards; Dave B.




(5)
Best products, best business, best service on the

By:

DAVID C

on 20 July 2016

Just received my new nitehunter torch and wow, this is an extremely well made unit. I can tell i have worked with metal casting and forging and know hi quality engineering when i see it. Its a rock solid unit extremely well made. As for the performance, i havent field tested it yet but have done a short test indoors and its well above consumer grade torches, in a different league. I dont doubt for a sec it will be exactly what i need for hunting at night and exceed my expectations. I did painfully meticulous research and comparison before purchase. I definately made the right decision. No wonder law enforcement and military/search rescue use them. Its great that if you ever need replacement parts they are easily available. If your going to spend a bit more for something a notch above in quality/performance, this is a necessary requirement i believe. No wonder the reviews are so positive. The reason is the product and service are outstanding!! As for my thoughts about dealing with the staff at wolf eyes, second to none, how refreshing to find a genuine company on the internet these days that value there customers and are so honest and decent, this blew me away as much as the torch. :-) If you need equipment thats a cut above the rest and great service, just buy it, you cannot go wrong at wolf eyes, im sold. I will be coming back for more equipment as required and recommending wolf eyes to my friends, every time. Very impressed, from a meticulously scrupulous consumer.




(5)
In my opinion the best torch brand

By:

Peter Wilson

on 2 December 2015

Great value for money & reliability in a little torch that throws a great light , I have since bought the wolf eyes seal & again a great torch that obviously throws a bigger brighter light at a more expensive price range but all in all just a great reliable brand




(5)
Fantastic

15 October 2015

I mounted this torch recently on both a .22 and a .222. it was exceptional in providing great vision through the scope. it accounted for a foxes, rabbits and feral cats. the wide beam was great for walking and for having a wider search area while spotlighting. While mounted the torch didn't affect the balance of the rifle too much but it was great in staying aligned with the scope out to a great distance. Great communication and fast shipment from wolf eyes.




(5)
Great HuntingTorch

By:

Henry Ruggen

on 9 September 2015

I have this on the .222 and has given me the ability to walk around and knock off foxes easily, no need for a spotlight. Great torch




(5)
Amazing Performance and Versatility

By:

Keith Falk

on 22 June 2015

The Nite Hunter has proven to be everything I had expected and then some! For it's size, it is a very powerful torch and, with the scope mounting clamp accessory, is easily and securely attached to a rifle. The adjustable lens allows for a flood beam or can be tightened to a very tight spot with very little light spill outside the spot. This unit has already accounted for numerous rabbits and several foxes both from a vehicle and on foot. So impressed was I with this product that I also purchased the Dingo headlamp. This, too, is a powerful and versatile unit with interchangeable lenses that enable the user to "customise" the beam to the application to which the lamp is to be put. It has proven extremely useful in the bush and is great for fishing off the beach at night, in both of which situations the variability of beam intensity id very useful. I should also comment that I have been extremely impressed with the efficiency with which queries are addressed and orders filled, together with the pleasant and professional attitude of the Wolf Eyes team when you speak to them on the phone. I have no hesitation in recommending them on the basis of service, efficiency and product quality of all three products I have bought. No, I am not related to the business, just a very satisfied customer who believes in credit where it is due!




(5)
---
Others Also Bought
---
More From This Category