Lumens: 350 lumens
Throw: 100 metres (just)
Length: 130 mm
Beam Type: Reflector – Spot surrounded by flood
The Sniper II Mini is a compact, rechargeable torch with good output from it's reflector LED. The Sniper and Sniper II Mini are essentially the same torch, with the Mini having a slightly different head and the addition of a removable pocket clip.
Light Output and Beam Pattern
The reflector beam of the Sniper II Mini torch is spot surrounded by flood and just reaches out to 100 metres. There is a high beam, medium and low beam and also a strobe on this LED torch.
TTT and Construction
Constructed of aircraft aluminium, the Sniper II Mini has the Wolf Eyes TTT (Thermal Transfer Tube) in the centre like so many Wolf Eyes torches to provide a final structure stronger than the sum of its parts, more than strong enough for the intended function. The Thermal Transfer Tube works to wick damaging heat away from the LED and use the body to dissipate that heat. LEDs can be permanently damaged by overheating and suffer reduced output for the rest of their life, the TTT stops that from happening.
Regulation
Your Sniper II Mini LED Torch will not dim as it is used due to the electronic regulation unit built in. As the battery flattens voltage is reduced, the regulation unit increases the amperage so the current supplied to the torches LED is always the same and your flashlight keeps a consistent brightness.
Rechargeable Batteries
The Wolf Eyes LRB168A (18650) lithium ion batteries are used by the Sniper II Mini which provide high power output and recharge ability. These batteries are protected, which means there is a computer chip controlling charging and discharging, for your protection. These lithium ion batteries work extremely well in cold - even subzero - conditions.
Cold Weather
The photo above is of a Wolf Eyes LED torch frozen inside an ice cube and still working – enough said!
Australian Approved Charger
Your Wolf Eyes Sniper II Mini flashlight is supplied with an Australian Approved Charger, this means that all insurances apply but more importantly you know it is safe to use.
Upgradeable
Who doesn't like to upgrade? The Sniper Ii Mini can be upgraded when suitable new LEDs are released.
Waterproof
The Sniper II Mini is waterproof to 1 metre.
Support
Supported in Australia with a full range of spares, you also have the benefit of a 1300 911 007 number for faultfinding with the Sniper II Mini LED torch. There is even a 24 hour after hours answering service.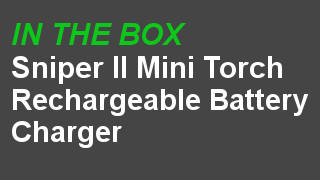 (226-wolf-eyes-sniper-mini)
| | |
| --- | --- |
| SKU | 226-wolf-eyes-sniper-mini |
| Brand | Wolf Eyes LED Torches |
| Shipping Weight | 1.0000kg |
Mini Ripper

By:

Danielson

on 21 January 2017

Of the many wolfeyes torches I do own, use and love I was looking for one that fills a niche of being small, portable, bright and long-lasting. This one does it all. Another great product from wolfeyes.




(5)
Easy accessible light

By:

Derryn

on 5 July 2016

Excellent product great size gets used more often than I thought Easy usage




(5)
Great little unit

By:

Mark W

on 19 November 2015

I have a bunch of Wolf Eyes from one I use for work to a few for hunting. I have an original version of this from when it was just called Sniper and had no clip on it. After 9 years it is still going strong, not my best or brightest Wolf Eyes by a long shot but is my favourite, it has never let me down, is just the right size to fit into a pocket and is built like a brick. Just bought this one for a mate who did me a big favour - hope he likes it as much as I love mine.




(5)
---
Others Also Bought
---
More From This Category